B&B Recap And Spoilers Thursday, August 3: Steffy Plans To Leave, Liam's Admission, Sheila Seduces Deacon
The Bold And The Beautiful spoilers for Thursday, August 3 John "Finn" Finnegan (Tanner Novlan) is shocked that Steffy Forrester (Jacqueline MacInnes Wood) says she cannot trust him. Steffy cannot believe Finn is referring to Sheila Carter (Kimberlin Brown) as his mother.
Sheila remembers Finn calling her mom. Deacon Sharpe (Sean Kanan) believes Sheila should leave town today. Wyatt Spencer (Darin Brooks) and Liam Spencer (Scott Clifton) discuss how much Liam wants Steffy back.
The Bold And The Beautiful Spoilers – Deacon SharpeDoesn't Want Sheila Carter Hurt
Deacon thinks Finn and his family would be better off. Sheila says what happened today was a miracle that is going to give him a second chance with her son. Sheila tells Deacon how she and Finn are getting along. Sheila is convinced that Finn has accepted her and will continue to have a relationship with her.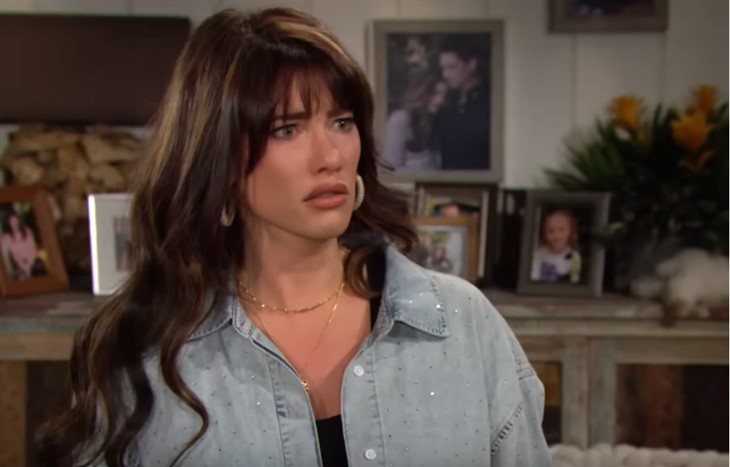 Deacon tells Sheila that she cannot stay there because of his relationship with Hope Logan (Annika Noelle) and Brooke Logan (Katherine Kelly Lang). Sheila wants to know if Deacon is 100% sure of his decision. Sheila begins to seduce Deacon.
B&B Spoilers – Wyatt Spencer Forces Liam Spencer To Admit The Truth
The Bold And The Beautiful spoilers indicate that Liam tries to blame it on protecting his family. Wyatt says there is more to it. Liam says it doesn't matter how he feels.
Wyatt pushes Liam to be honest with him. Wyatt says Liam felt that the moment he kissed Steffy. Liam tells Wyatt what happened in Rome was so unexpected. Liam says it was confusing and devastating.
Liam says before anything started to make sense, there Steffy was. Steffy is someone he has loved more than he ever thought possible. Liam started to feel like losing Steffy was the worse thing that ever happened to him but he hasn't been able to stop thinking about it.
Liam keeps replaying that moment in Rome kissing Steffy. Liam says that is not where his head is right now. Steffy and the kids' wellbeing is his priority and Finn cannot protect them.
The Bold And The Beautiful Spoilers – John Finnegan Begs Steffy Forrester To Stay
Finn didn't want to embrace Sheila. Finn says it doesn't make any sense but in the moment, she was the woman who gave birth to him.
Finn asks how Steffy found out about that. Steffy says it doesn't matter. Steffy reveals that Liam told her because he followed Finn. Finn asks how Liam is involved. Finn tells Steffy that Liam is out to get him. Finn can protect his own family.
Steffy says Liam showed her the video. Finn tells Steffy this is obvious, Liam is trying to destroy their marriage. Liam is trying to keep them safe. Finn questions if Steffy needs to be protected from him.
Finn says Sheila loves him, she gave birth to him. Finn says Liam is manipulating her against him. Finn hugged Sheila. Sheila saved Kelly. Steffy cannot have the children there when Finn is so vulnerable to Sheila.
Steffy is taking the kids and leaving. Steffy is going to her grandfather's Steffy cannot take the chance that Finn will still be vulnerable to Sheila. Finn says he isn't blind, Liam wants her.
Steffy says this has nothing to do with Liam. Steffy fell in love with Finn. Finn promises Sheila won't have anything to do with them. Finn tells Steffy that nothing is more important to him than Steffy and the kids. Finn begs Steffy not to do this.
Be sure to catch up on everything happening with B&B right now. Come back here often for The Bold And The Beautiful spoilers, news, and updates.