B&B Recap And Spoilers Thursday, May 25: Liam And Steffy Argue, Hope's Frustration, Brooke Struggles
The Bold And The Beautiful spoilers for Thursday, May 25 suggest that Steffy Forrester (Jacqueline MacInnes Wood) argues with Liam Spencer (Scott Clifton) over Thomas Forrester (Matthew Atkinson) and Hope Spencer (Annika Noelle). Hope cannot keep her mind on work. Thomas asks if Hope is still thinking about her call with Liam. Taylor Hayes (Krista Allen) doesn't know who is more hurt, Thomas or her. Brooke Logan (Katherine Kelly Lang) says Hope was trying to get through to her by going overboard. Taylor asks why Hope feels the need to explain. Taylor accuses Brooke of thinking something is going on.
The Bold And The Beautiful Spoilers – Brooke Logan Tries To Explain
Brooke and Taylor sit down to talk. Brooke doesn't want this to come between them. Brooke says Thomas accepted Hope's apology. Taylor pushes for an explanation. Brooke says Hope is sorry. Brooke says Liam is concerned about their marriage. Taylor is tired of having to defend her son to everyone.
Taylor says Thomas is not a threat to Hope's marriage. Taylor is feeling angry and frustrated because she thought she and Brooke had a true friendship. Taylor asks if Brooke is keeping anything else from her. Brooke asks if they can drop this. Taylor says it would help if Brooke could just believe in Thomas. Brooke doesn't want this to damage their friendship.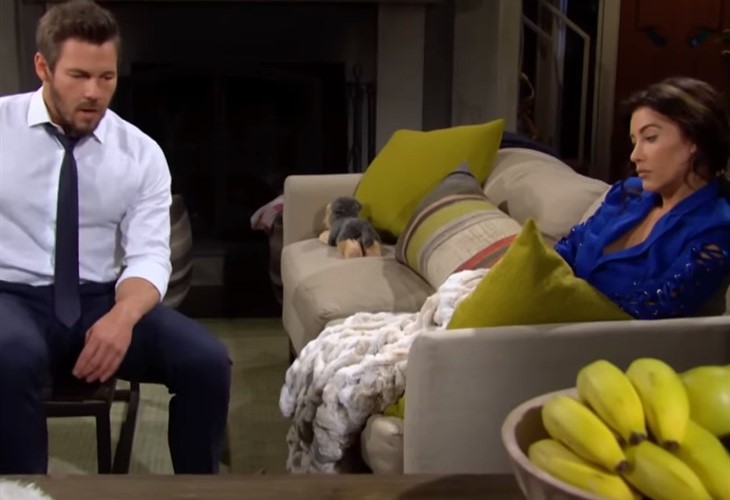 B&B Spoilers – Hope Spencer Is Fed Up With Liam Spencer's Actions
The Bold And The Beautiful spoilers indicate Hope is trying to be sensitive to Liam's feelings. Hope says this is exhausting when Liam continually looks for something to go wrong. Hope feels that Liam doesn't trust her. Thomas says Liam doesn't trust him. Thomas defends Liam. Thomas says he will keep working on this. Hope cannot concentrate on what they are doing.
Hope is upset over how Liam is treating Thomas. Thomas understands Liam being on guard. Thomas says this doesn't bother him that much. Hope is tired of justifying her choices. Hope is going to go home and clear this up once and for all. Thomas continues to work after Hope leaves. Thomas thinks of the time he has spent with Hope recently. Hope arrives home and Liam is waiting for her.
Hope doesn't appreciate the way Liam dismissed her. Hope is frustrated over Liam's lack of trust. Hope says Liam doesn't trust her to make decisions for herself because Liam is insecure. Hope wants Liam to have faith in her. Liam says this is about what Thomas is capable of. Liam says he had it wrong. Liam saw Steffy today.
Hope doesn't have issues with Liam spending time with his ex-wife with his track record and she deserves the same. Liam says Steffy made an interesting case as to why Thomas isn't the problem. Hope says Liam has worked on himself and changed. Liam is the only one who cannot see that Thomas has changed. Liam says Steffy told him he should be worried about Hope. Liam tells Hope that Steffy believes she has feelings for Thomas.
The Bold And The Beautiful Spoilers – Steffy Forrester Defends Thomas Forrester
Liam asks what Steffy means. Steffy says it makes no sense to continue blaming Thomas. Liam is shocked when Steffy says Hope has feelings for Thomas. Liam thinks Steffy is misunderstanding hopes actions. Steffy says the feelings Hope has for Thomas are genuine, she has seen it with her own eyes. Liam says this doesn't mean what Steffy thinks. Liam made the same mistake.
Liam says Hope is completely committed to him. Liam says he has to talk to Hope, and Steffy agrees. Steffy is sorry but she had to let Liam know. Her brother hasn't' crossed any lines but she can't say the same about Hope. Steffy thinks over her conversation with Hope.
Be sure to catch up on everything happening with B&B right now. Come back here often for The Bold And The Beautiful spoilers, news, and updates.