B&B Recap And Spoilers Tuesday, August 15: Ridge And Taylor Argue, Finn Needs Help, Liam Is Determined
The Bold And The Beautiful spoilers for Tuesday, August 15 indicate Ridge Forrester (Thorsten Kaye) and Eric Forrester (John McCook) are discussing wine. Steffy Forrester (Jacqueline MacInnes Wood) joins them in the living room.
Eric cannot believe Steffy doesn't feel safe with Joh "Finn" Finnegan (Tanner Novlan). RJ Forrester (Joshua Hoffman) arrives to talk to Finn.
Finn needs RJ's help with Steffy. Liam Spencer (Scott Clifton) and Wyatt Spencer (Darin Brooks) are at the office. Wyatt says Bill Spencer (Don Diamont) is happy that Liam opened up to him.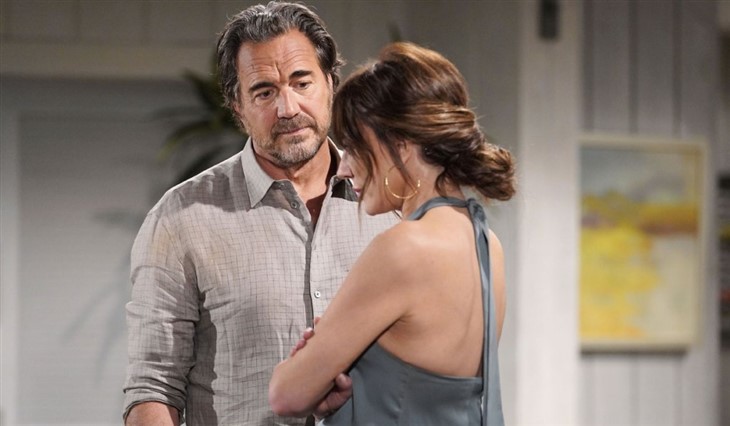 The Bold And The Beautiful Spoilers – John Finnegan Asks For Help
RJ questions Finn about needing his help with Steffy. Finn says when Steffy makes up her mind she sticks with it. Finn says Liam is the reason Steffy moved out.
RJ doesn't understand why Finn believes that Liam is the reason Steffy left. Finn asks RJ if he heard about the hearing.
READ THIS: Find out what happens next on The Young and the Restless.
Finn tells RJ that Sheila Carter (Kimberlin Brown) hugged him at the court house and he hugged her back.
Finn says Liam followed him and recorded the hug. RJ believes that Finn is overreacting. Finn isn't letting Liam get away with this. RJ says Liam is being protective.
Finn tells RJ that Liam told him that he loves Steffy. Finn tells RJ about the day he met Steffy. Finn will do anything to keep Steffy happy. Finn says it breaks his heart that Steffy doesn't feel safe there because of Sheila.
Finn says he screwed up and has apologized. Finn needs Steffy to come home to prove that he can protect his family. Sheila is a big part of this but Liam is too.
Finn almost lost Steffy once and he is not going to let Liam make a play for his wife.
B&B Spoilers – Liam Spencer Vows To Win Steffy Forrester Back
The Bold And The Beautiful spoilers Liam is proud of Steffy for moving out of the cliff house. Wyatt says it also could give Liam a chance with Steffy in the future. Liam wants Wyatt to back off.
Wyatt says Liam believes his worst mistake was leaving Steffy. Wyatt thinks Liam can rectify that in the future. Wyatt isn't telling Liam to sabotage Steffy's marriage.
Wyatt says everything is lining up for Liam here. Wyatt believes Liam is still in love with Steffy and wants a life with him.
Liam admits that Wyatt is right. Liam has told Steffy and Finn this. Liam says he should not have kissed Steffy. Liam doesn't want to interfere in Steffy's marriage.
Wyatt says all of this happened before Finn screwed up. Liam says Steffy is trying to hold it together for the kids. Liam says Steffy cannot stay with Finn, he is a danger to Steffy and the kids. Liam wants to be with Steffy and his daughter.
The Bold And The Beautiful Spoilers – Taylor Hayes Tries To Reason With Steffy Forrester
Steffy hates that she had to move the kids out of their home. Taylor Hayes (Krista Allen) arrives and questions Steffy about what is going on.
Taylor wonders if Steffy shouldn't try to work things out with Finn. Ridge accuses Taylor of running Eric off. Ridge says Steffy and the kids are where they need to be.
Taylor says Finn won't let anything happen to Steffy and the kids. Taylor says Finn loves Steffy and only her for better or worse.
Taylor and Ridge argue about Steffy's needs while Steffy remembers her conversation with Finn. Taylor says Steffy and their grandkids are her first priority.
Taylor says Steffy and Finn need to work through this together. Ridge says Taylor is wrong. Ridge doesn't want Steffy's marriage to fall apart. Ridge wonders if Steffy is going to spend the rest of her life looking over her shoulder.
Be sure to catch up on everything happening with B&B right now. Come back here often for The Bold And The Beautiful spoilers, news, and updates.