B&B Recap And Spoilers Tuesday, August 8: Finn Confronts Liam, Ridge Is Furious, Wyatt's Intuition Proves True
Check out what happened today in Los Angeles!
The Bold And The Beautiful spoilers for Tuesday, August 8 indicate that Eric Forrester (John McCook) offers Steffy Forrester (Jacqueline MacInnes Wood) coffee.
Eric is happy to have Steffy and the kids. Ridge Forrester (Thorsten Kaye) arrives. Steffy needs to fill Ridge and Eric in on what happened.
John "Finn" Finnegan (Tanner Novlan) is at home missing his family. RJ Forrester (Joshua Hoffman) arrives to visit.
Finn tells RJ that Steffy moved out. Wyatt Spencer (Darin Brooks) cannot believe that Kelly Spencer (Sophia Paras McKinlay) almost drown. Liam Spencer (Scott Clifton) tells Wyatt that Sheila Carter (Kimberlin Brown) saved Kelly.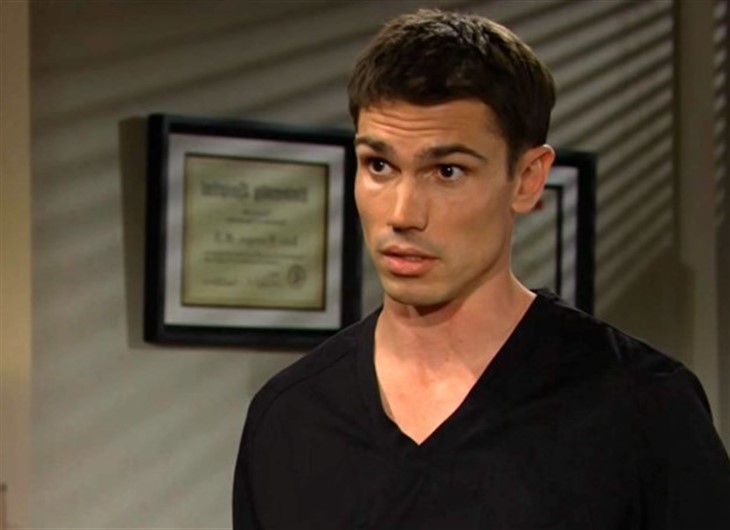 The Bold And The Beautiful Spoilers – John Finnegan Updates RJ Forrester
RJ asks Finn what he is talking about. RJ offers to help watch the kids. Finn tells RJ that Steffy moved to Eric's house. Finn says Steffy moved out because of Liam. Finn tells RJ what happened with Kelly.
RJ asked if this is why Steffy walked out. Finn tells RJ that Sheila saved Kelly. RJ understands why Steffy walked out. Finn tells RJ that Liam wants Steffy back and is doing everything he can to undermine his marriage.
B&B Spoilers – Wyatt Spencer Calls Out Liam Spencer
The Bold And The Beautiful spoilers Wyatt asked what Sheila was doing at the beach. Liam says because of Finn. Wyatt says this proves that Sheila wasn't going to stay away.
Wyatt is glad Steffy left with the kids. Liam says Finn is a magnet for Sheila. Liam says he and Steffy are on the same page now, they aren't letting Sheila near their family.
Wyatt asks if Steffy feels the same way Liam does about her husband. Liam says Steffy knows they aren't safe with Finn. Liam swears he wasn't trying to break up Steffy's marriage.
Wyatt says Steffy still walked out on Finn. Liam says this is because new information came out. Wyatt thinks Liam sees an opportunity to reunite with Steffy. Liam puts up a photo of himself, Steffy, and Kelly.
Finn knows what Liam is doing. Liam says Finn could have gotten Kelly killed. Finn tells Liam that Sheila is the reason that Kelly is alive. Liam says Finn is defending Sheila, even embracing her.
Finn knows what Liam wants. Finn tells Liam just because his marriage ended, he doesn't get to circle back to his wife.
Finn says he and Steffy will get through this together. Finn isn't letting Liam interfere with his marriage. Finn tells Liam to stay away from his wife.
The Bold And The Beautiful Spoilers – Steffy Forrester Doesn't Trust John Finnegan
Ridge wants to know why Steffy is moving to Eric's. Steffy had to get the kids to safety. Ridge says because of Sheila and asks what happened. Steffy tells Eric and Ridge that Finn feels terrible.
Steffy says that Sheila saved Kelly. Finn didn't know that Sheila was there. Steffy says Finn thinks she should cut Sheila some slack. Steffy cannot live with Finn's connection to Sheila.

Eric is sorry Steffy is going through all of this. Steffy is welcome to stay as long as she wants. Eric will get Steffy whatever she needs and alert the staff. Ridge comforts Steffy.
Ridge says Steffy did the right thing coming there and they will get through this, they always do. Ridge offers to move in and help with the kids.
Steffy tells Ridge to stay with Brooke Logan (Katherine Kelly Lang). Steffy tells Ridge about Finn hugging Sheila at the courthouse.
Steffy says Liam showed her the video. Ridge says Finn will hear from him. Steffy doesn't know how to explain this. Steffy doesn't know how she is supposed to trust her husband. Ridge asks what happens now.
Be sure to catch up on everything happening with B&B right now. Come back here often for The Bold And The Beautiful spoilers, news, and updates.