B&B Recap And Spoilers Tuesday, May 30: Hope Rants, Steffy Unleashes, Brooke Accuses
The Bold And The Beautiful spoilers and recap for Tuesday, May 30 indicate Hope Spencer (Annika Noelle) cannot believe that Steffy Forrester (Jacqueline MacInnes Wood) would start this with Liam Spencer (Scott Clifton). Steffy says she had to protect her brother. Taylor Hayes brings Ridge Forrester (Thorsten Kaye) a pizza. Ridge leans in as if to kiss her.
The Bold And The Beautiful Spoilers – Hope Logan Rants About Steffy Forrester
Steffy says she wasn't trying to sabotage Hope's relationship. Hope says Steffy knew what she was doing when she went to Liam. Hope texts Brooke Logan (Katherine Kelly Lang) and tells her that Steffy is interfering in her marriage again. Brooke asks if Steffy is for sure mistaken. Hope says Steffy should have come to her instead of starting something with Liam.
Hope says that would be crazy considering all Thomas has done. Hope tells Brooke that Steffy accused her and Thomas of caressing each other's hands, etc. Brooke asks again if there is any way Steffy might be right. Hope doesn't want any more from Thomas than to be coworkers, co-parents, and friends.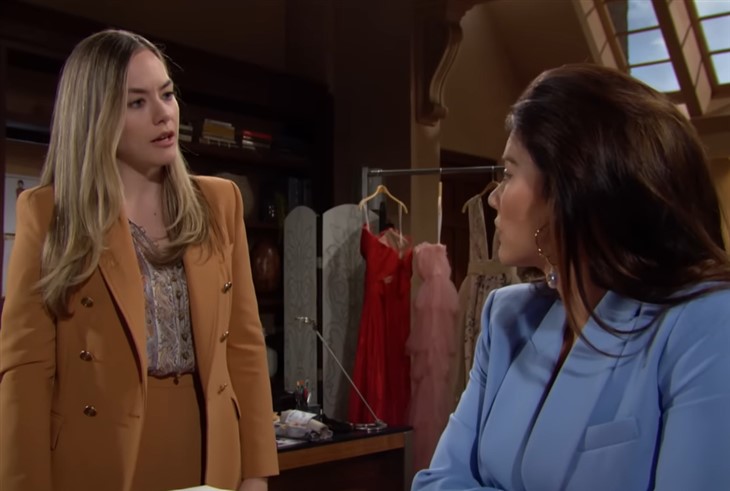 Hope is human, and Thomas is funny and good-looking. Hope might have felt something. Hope spends 12 to 14 hours with Thomas a day. Hope isn't going to let anyone destroy her marriage. Liam is the love of her life. Hope calls Liam but it goes to voicemail. Hope leaves Liam a message.
B&B Spoilers – Steffy Forrester Unleashes Her Frustrations
The Bold And The Beautiful spoilers Taylor says she is done with Ridge but she still thinks about all of the times they have shared. Ridge tells Taylor that he has a spring in his step because of what Taylor said. Taylor is proud of their kids and proud of them as parents. Taylor tells Ridge that he and Brooke disagreed. Taylor asks Ridge if Brooke has broken their pact.
Charlie Webber (Dick Christie) interrupts and wants to go to Rome. Steffy comes in and tells Ridge and Taylor that Hope is upset. Steffy thinks Hope has feelings for Thomas Forrester (Matthew Atkinson). Taylor is glad that Steffy stood up for Thomas. Steffy says everyone dismissed Liam's concerns. Steffy knows that Hope loves Liam.
Steffy wasn't trying to make trouble in Hope's marriage. Taylor says whatever happens now is up to Hope. Ridge said it was too bad Taylor had to go back to work. Ridge says this couldn't have come at a worse time. Steffy wants to believe that Hope isn't interested in Thomas but she's not convinced.
The Bold And The Beautiful Spoilers – Brooke Logan Insinuates The Steffy Forrester Is Up To No Good
Taylor is daydreaming about Ridge when Brooke shows up at the office. Brooke wants to know if Taylor has talked to Steffy. Taylor admits that she spoke to Steffy. Brooke says it wasn't right that Steffy said those things to Liam. Brooke insinuates that Steffy is trying to ruin Liam and Hope's marriage. Taylor wonders why Steffy would do that.
Brooke asks if they are friends and Taylor says yes. Brooke wants Taylor to go to Steffy and ask her to tell Liam that she was mistaken. Hope would not cheat on her husband. Taylor thinks Steffy is just being protective of her brother. Brooke isn't going to let anyone come between Hope and Liam.
Be sure to catch up on everything happening with B&B right now. Come back here often for The Bold And The Beautiful spoilers, news, and updates.