B&B Recap And Spoilers Wednesday, August 23: Thomas Heartbroken, Brooke Hopeful, Hope Disillusioned
The Bold And The Beautiful spoilers for Wednesday, August 23 indicate that Thomas Forrester (Matthew Atkinson) tells Hope Logan (Annika Noelle) that Liam Spencer (Scott Clifton) got into her head. Thomas says Hope pursued him but there is only one thing they can do.
Brooke Logan (Katherine Kelly Lang) believes that Hope and Liam could save their marriage. Liam tells Steffy Forrester (Jacqueline MacInnes Wood) that he won't take Hope back.
The Bold And The Beautiful Spoilers – Brooke Logan Hopes For The Best
Ridge is happy that Brooke is optimistic. However, Ridge wonders why Brooke believes Hope and Liam can get back together. Brooke says Hope is focused and her head is clear. Brooke thinks Liam got through to Hope. Brooke thinks this party was an eye-opener for Hope.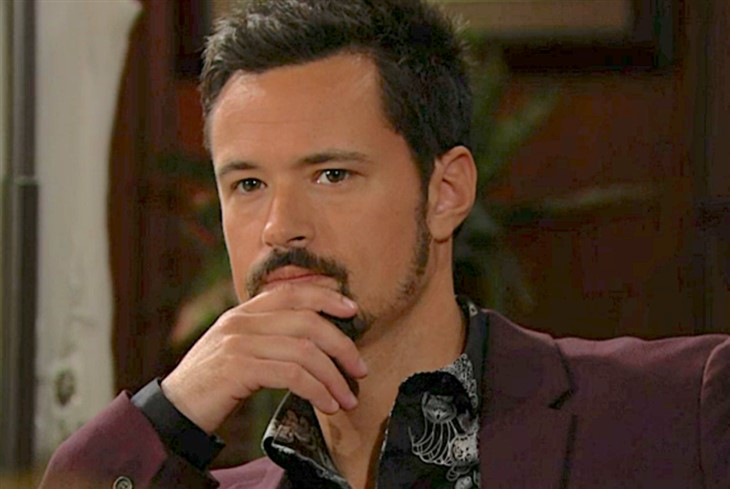 Ridge doesn't believe Liam is ready to forgive Hope. Brooke says they cannot ignore the part Liam played. RJ Forrester (Joshua Hoffman) says Hope wants her family and Liam. Ridge asks about Hope's thoughts that Steffy has been in their marriage from the start.
Brooke says after they spoke, Hope ran out. Brooke expects that Hope is at Thomas'. Ridge never wanted Hope's marriage to be in trouble. RJ says this has hurt everyone involved. Ridge says Liam will always love Steffy.
B&B Spoilers – Liam Spencer Doesn't Want To Patch Things Up
The Bold And The Beautiful spoilers indicate that Steffy defends Thomas to Liam. Liam says Thomas caused a lot of damage and Hope needs to remember that.
Steffy says that Thomas is not the same person. Steffy asks Liam if he has gotten through to Hope isn't he ready to forgive her?
Steffy pushes Liam for an answer. Steffy hopes that Liam is ready to put his marriage back together. Liam says two different things can be true at the same time.
Liam wants to get through to Hope because of Thomas. However, Liam is wondering how he ever let Steffy go.
Steffy reads messages from John "Finn" Finnegan (Tanner Novlan). Liam joins Hope at the cabin. Hope says it was nice to concentrate on the family.
Liam says he loves Hope and their daughter. Hope wants Liam to know that she heard everything Liam said.
Hope says agreeing to work with Thomas has put a strain on their relationship. Hope is sorry she hurt Liam by kissing Thomas in Rome.
Hope wonders if there was a reason for them dragging their feet. Hope says Steffy has played a bit part in their relationship.
Hope says she isn't perfect. Hope says Liam knows how much she values their family. Hope wants to know if Liam wants to give it one last shot. Hope says Liam if it is too late.
The Bold And The Beautiful Spoilers – Thomas Forrest Makes A Huge Sacrifice
Hope is shocked that Thomas has offered to walk away from her if she wants Liam. Thomas loves her and wants her to be happy. Hope and Thomas discuss everything.
Thomas isn't going to stop Hope if she goes back to Liam, that is how much he loves her. Hope says this wasn't right.
Hope started this and has now hurt him. Hope says she got caught up in her feelings and hurt Thomas. Thomas says this is on both of them.
Thomas won't keep Hope from her family. Thomas wants to be with Hope but he will not stand in her way. Thomas has to stand back and let Hope go.
READ THIS: Find out what happens next on The Bold and The Beautiful.
Thomas loves Hope, and that is never going to change. Hope thanks Thomas for understanding. Thomas truly has changed.
Hope says they should put a stop to this, it is hurting a lot of people and Hope wants to try to repair the damage she has done.
Hope wants to try to make her marriage work for her daughter. Hope has to at least give it a try. Hope is sorry for leading Thomas on.
Thomas says they have the beautiful memories. Hope never intended to hurt anyone. Thomas won't say anything to anyone about this.
Thomas and Hope hug and she leaves. Thomas is obviously hurt. Be sure to catch up on everything happening with B&B right now. Come back here often for The Bold And The Beautiful spoilers, news, and updates.