B&B Recap And Spoilers Wednesday, August 9: Liam And Finn Face Off, Ridge Demands Answers, Steffy Is Stunned
The Bold And The Beautiful (B&B) spoilers for Wednesday, August 9 indicate that Liam Spencer (Scott Clifton) tells John "Finn" Finnegan (Tanner Novlan) that he cannot tell him how to protect his family.
Liam says Steffy is his family. Finn wants Liam to stay away from his wife. Ridge Forrester (Thorsten Kaye) and Steffy Forrester (Jacqueline MacInnes Wood) discuss how well the trip to Rome helped. Steffy is also grateful for her family's help.
The Bold And The Beautiful Spoilers – Brooke Logan And Hope Logan Are Shocked
Brooke Logan (Katherine Kelly Lang) and Hope Logan (Annika Noelle) learn that Steffy has moved into the mansion. Hope is confused as to why Steffy feels she has to protect the kids from Finn.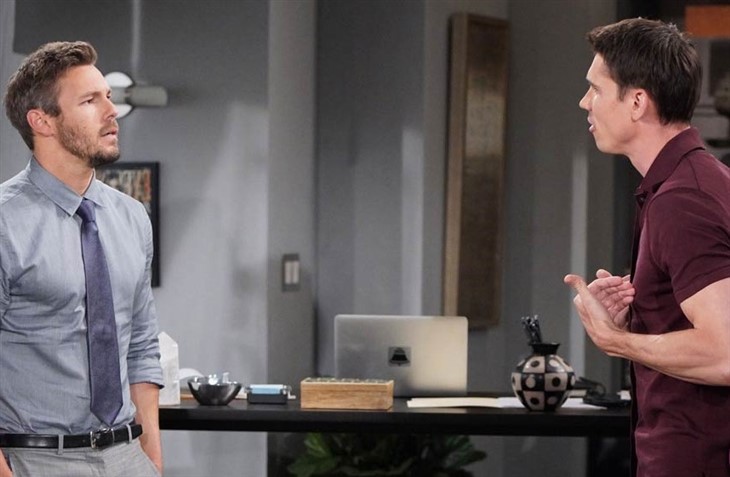 Hope and Brooke are glad that Kelly Spencer (Sophia Paras McKinlay) is ok. Steffy doesn't feel she can trust Finn because of his connection to Sheila. Hope says this is shocking.
It has been very difficult dealing with Sheila being Finn's birth mother. Brooke is worried about Finn. Steffy loves Finn but he still has a weakness for Sheila.
Ridge has to take care of his family. Hope is so sorry that Steffy is having to go through this. Steffy tells Hope that her decision to leave Finn has nothing to do with Liam.
Hope says Liam will be waiting in the wings. Steffy sends the kids off with Donna Logan (Jennifer Gareis) for ice cream. Liam shows up to tell Steffy about his visit from Finn.
Liam says the only reason he brought it up is because Steffy needs to know what Liam said to Finn. Steffy says she knows Liam is going to protect them.
Liam told Finn that he loves Steffy and has spent a great deal of his life loving her. Liam doesn't believe that Steffy has lost that either.
Liam says they are a part of each other and that is never going to change. Liam was a fool to let Steffy go and if he had that chance he would never make that mistake again.
B&B Spoilers – John Finnegan Warns Liam Spencer
The Bold And The Beautiful spoilers reveal that Finn tells Liam that he doesn't know anything about protecting Steffy. Finn believes that Liam is using this to come between him and Steffy.
Liam wants Steffy back and Finn sees that. Finn tells Liam he has been doing this ever since Hope kissed Thomas Forrester (Matthew Atkinson). Liam has to protect Finn's own son as well.
Finn says Steffy loves him. Liam says Finn is allowing Sheila Carter (Kimberlin Brown) to come between them. Finn tells Liam he is using Sheila to manipulate his wife.
Finn tells Liam he won't allow him to have a future with Steffy. Liam says Finn never saw what he and Steffy had. Finn tells Liam he will not allow Liam to take Steffy from him.
Finn messages Steffy but she doesn't answer back. Ridge shows up to speak to Finn. Finn tells Ridge he isn't going to tell him anything he hasn't heard.

Ridge says he trusted Finn and he let him down. Ridge says Finn created this problem and allowed Sheila back into his life. Ridge wants to know what Finn is doing.
B&B Spoilers: Hope Logan Knows John Finnegan Won't Give Up
Brooke and Hope talk about Steffy leaving Finn. Hope is glad she isn't pulled into that drama now. Hope cannot live in regret.
Hope has to be excited about something. Hope has so many new ideas for her life. Hope says Finn will not give up his marriage without a fight.
Be sure to catch up on everything happening with B&B right now. Come back here often for The Bold And The Beautiful spoilers, news, and updates.