B&B Recap And Spoilers Wednesday, July 26: Liam Warns Steffy, Hope Updates Her Parents, Sheila Visits Deacon
The Bold And The Beautiful spoilers for Wednesday, July 26 Steffy Forrester (Jacqueline MacInnes Wood) makes herself a pot of tea as she tried to calm herself down. Liam Spencer (Scott Clifton) tells Wyatt Spencer (Darin Brooks) that he as trusted John "Finn" Finnegan (Tanner Novlan) all of this time to protect Steffy and their daughter.
Hope Logan (Annika Noelle) has asked Brooke Logan (Katherine Kelly Lang) and Deacon Sharpe (Sean Kanan) to meet her at Il Giardino. Hope wants to tell Deacon about Thomas Forrester (Matthew Atkinson) and her relationship change.
The Bold And The Beautiful Spoilers – Hope Logan Meets With Her Parents
Deacon says he heard things went well in Rome and asks if they are still working together. Hope tell Deacon that she and Thomas kissed in Rome. Hope tells Deacon that she made the first move. Hope says it just happened. Deacon asks if Liam knows. Hope tells Deacon that Liam was there and saw the kiss.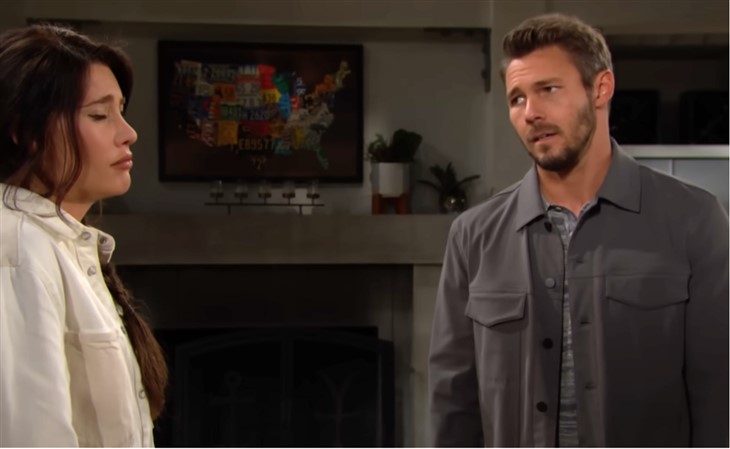 Hope says Liam left. Deacon says Deacon isn't truly gone is he? Deacon never trusted Thomas. Hope says part of her always worried that Liam would leave. Deacon doesn't understand. Hope says Hope tells Brooke and Deacon that she gave Liam the divorce he asked for. Hope said she and Liam sat down and signed the papers and that was that.
B&B Spoilers – Wyatt Spencer Accuses Liam Spencer Of Sabotaging Steffy Forrester's Marriage
The Bold And The Beautiful spoilers indicate that Liam never has any worries about Finn before. Liam always believed that everyone was safe with Finn. Liam says in the video, Finn is holding onto Sheila Carter (Kimberlin Brown) and looks happy. Liam has to protect his family. Wyatt understands Liam being concerned about what went on with Finn and Sheila.
However, Wyatt knows what happened in Rome and believes Liam is trying to break up Steffy's marriage to Finn so he can have another shot at her. Liam says he is not out to ruin Steffy's marriage. Liam wants to protect Steffy and his daughter. Liam cannot ignore that video and walks out. Wyatt asks if he needs to ask where Liam is going. Sheila sits close by and listens in on the conversation.
Hope doesn't want to be with someone who doesn't fight for what they had. Hope believes that Liam still loves Steffy. Deacon asks if Hope is moving on with Thomas. Hope doesn't know what the future holds. Brooke believes that Liam is the love of Hope's life. Hope isn't the love of Liam's life and she doesn't want to live like that anymore.
Hope understands that both of her parents are concerned. Deacon has to leave. Hope thanks her parents for always being on her side. Brooke supports Hope and loves her very much. Brooke asks if what she saw is why Hope filed those papers. Hope doesn't want to come in second anymore. Sheila joins Deacon upstairs.

The Bold And The Beautiful Spoilers – Steffy Forrester Worries About Sheila Carter
Steffy hears a noise outside and screams Sheila's name. Steffy walks the floor terrified that Sheila will show up. Steffy is enjoying a drink when Liam arrives. Liam wanted to check on Steffy because a lot happened today. Steffy doesn't feel like she can let her guard down. Sheila and Finn are what Liam is there. Steffy asks what Liam is talking about.
Liam is shocked that his dad's plan didn't work. Steffy says nothing will happen to the kids she has Finn to protect them. Liam says he followed Finn outside and he thought the vibe was off with Finn and Sheila. Liam tells Steffy she saw Sheila in Finn's arms. Liam tells Steffy that Sheila and Finn were hugging.
Be sure to catch up on everything happening with B&B right now. Come back here often for The Bold And The Beautiful spoilers, news, and updates.
For more about what's happening on your favorite soaps and more ways to connect with us, join the conversation on our YouTube Page or our Facebook Page, check out our Twitter feed, look for an update on our Instagram, follow us on Threads , Always stay up-to-date with us on Google News, or drop us an e-mail HERE! See you there!