B&B Recap And Spoilers Wednesday, May 24: Taylor Questions Brooke, Steffy Shocks Liam
The Bold And The Beautiful spoilers for Wednesday, May 24 reveal that Brooke Logan (Katherine Kelly Lang) is worried about Brooke Logan (Annika Noelle). Brooke demands to know if Hope is attracted to Thomas Forrester (Matthew Atkinson). Thomas believes Hope said all of those things about him. Thomas says Hope said it to placate Brooke. Liam Spencer (Scott Clifton) visits with Steffy Forrester (Jacqueline MacInnes Wood) and their daughter.
The Bold And The Beautiful Spoilers – Hope Spencer Apologizes Again
Thomas defends Brooke to Taylor. Taylor says she will give Brooke the benefit of the doubt. Taylor thinks Brooke is picking up on a vibe of some kind. Thomas hasn't given Hope anything to worry about. Taylor wonders what Brooke has to worry about. Thomas and Hope try to work on a dress but she cannot concentrate.
Thomas urges Hope to forget it, she already has. Hope asks Thomas how he can be this way. Thomas asks how he cannot be forgiven after all of the forgiveness Hope has shown him. Thomas wants to get rid of certain parts of the dress they are working on. Hope cuts him off and calls Liam.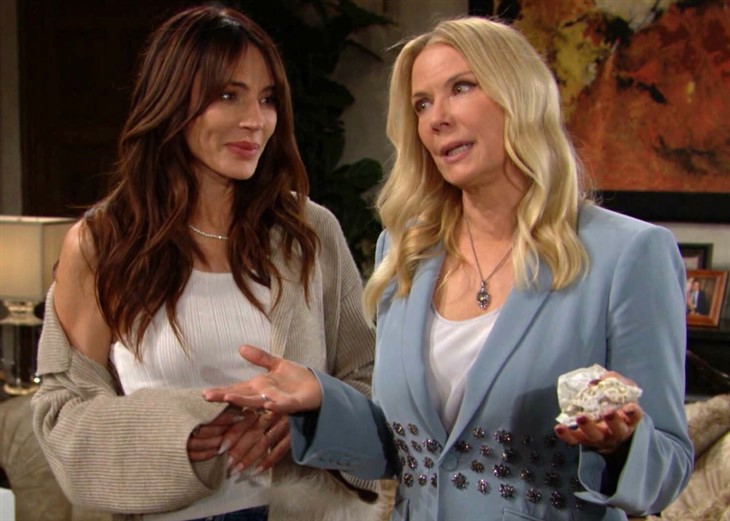 Hope isn't going to be able to make dinner. Hope needs to work a little later. Hope says they are on a deadline. Liam says that is convenient for Thomas. Liam tells her to do her thing and they will talk when she gets home.
B&B Spoilers – Brooke Logan Interrogates Hope Spencer
The Bold And The Beautiful spoilers indicate that Hope tells Brooke that she sometimes doubts Thomas. Thomas is really a remarkable man. Hope says her feelings for Thomas have changed because he has changed. Thomas didn't deserve to hear what she said. Hope promises that she has everything under control. Taylor comes in and interrupts Brooke as she is working.
Taylor tells Brooke that she was talking to Thomas about the conversation he overheard. Taylor asks Brooke if she can imagine how Brooke's words made Thomas feel. Taylor says that Thomas claims it only happened because of Brooke.
Taylor wants to get everything out in the open. Taylor wants the truth about how Brook feels about Thomas. Brooke isn't sure she is 100% comfortable with Thomas and Hope working together. Brooke is concerned about Hope's life with Liam.
The Bold And The Beautiful Spoilers – Liam Spencer And Steffy Forrester Spend Family Time Together
Liam, Steffy, and Kelly Spencer (Sophia Paras Mckinlay) want to share cookies with the man in the moon. Liam and Steffy talk with Kelly before she gets ready for bed. Liam and Steffy laugh about howling at the moon for Kelly. Liam and Steffy talk about how high-maintenance their daughter is. Liam says Kelly lights him up.
Liam talks about the first time they saw Kelly. Liam can't wait for Kelly to be old enough to understand how lucky she is. Steffy isn't happy over Liam's reactions. Liam asks if he is being unreasonable. Liam can never trust Thomas.
Steffy says maybe Thomas isn't the problem this time. Steffy says Thomas has changed. Liam says he can sense a vibe between them. Steffy says maybe it's Hope. Steffy thinks Hope has feelings for Thomas.
Be sure to catch up on everything happening with B&B right now. Come back here often for The Bold And The Beautiful spoilers, news, and updates.