B&B Recap And Spoilers Wednesday, May 31: Eric Pushes Ridge, Taylor Crosses A Line, Deacon Encourages Hope
The Bold And The Beautiful spoilers and recap for Wednesday, May 31 indicate Ridge Forrester (Thorsten Kaye), Carter Walton (Lawrence Saint-Victor), and Eric Forrester (John McCook) have a meeting about the Rome launch.
Brooke Logan (Katherine Kelly Lang) and Taylor Hayes (Krista Allen) discuss Steffy Forrester's (Jacqueline MacInnes Wood) actions. Hope Spencer (Annika Noelle) goes to visit Deacon Sharpe (Sean Kanan) at Il Giardino. Deacon knows this has to do with Thomas Forrester (Matthew Atkinson).
The Bold And The Beautiful Spoilers – Deacon Sharpe Believes In Hope Spencer
Hope tells Deacon she doesn't want to talk about Thomas. Hope is tired of people not believing her. Hope is tired of people worrying about her. Hope says Liam Spencer (Scott Clifton) has been worried about her and Thomas working together. Hope tries to convince Deacon that Thomas is ok now. Deacon trusts Hope not to put herself in a bad situation.
Deacon tells her not to stress about it if she isn't getting alarm bells going off. Deacon returns and Hope tells him about the new press event. Hope tells Deacon about the trip and how different it feels. Deacon knows Hope is going to kill it. Deacon is proud of who Hope is. Deacon wishes he had been around to watch Hope grow up. Deacon isn't going anywhere. Deacon messed up in the past but he won't again. Hope is the best thing Deacon has ever done.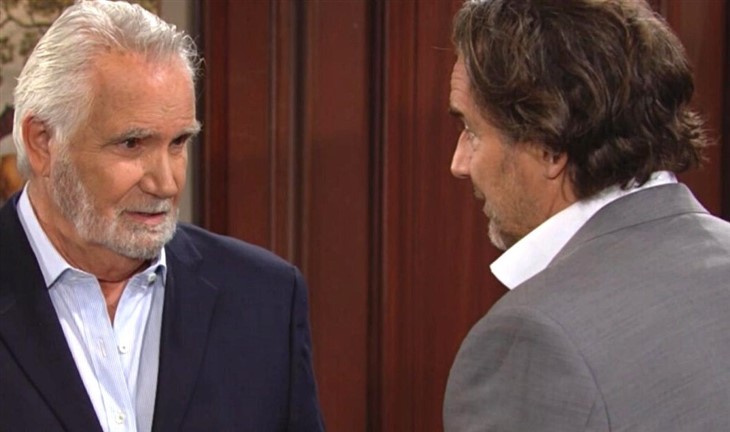 B&B Spoilers – Eric Forrester Believes Ridge Forrester Needs To Make A Choice
The Bold And The Beautiful spoilers Ridge assures Eric that this trip won't be a problem for Hope and Thomas. Carter says Thomas and Hope want to set up interviews. Eric wants to know if Brooke is going with them. Ridge asks if Taylor should go as well. Ridge says both of them have sworn off him for whatever reason. Charlie Webber (Dick Christie) tries to get Ridge to take him on the trip again.
Eric and Ridge talk, Eric loves having Ridge at the house. Eric is surprised this situation hasn't resolved itself. Eric tells Ridge that he and Brooke belong together. Eric leaves Brooke and Ridge to talk. Brooke asks what Eric's comment was supposed to mean. Ridge says Brooke knows how Eric feels about them.
Brooke says Eric has always been supportive. Ridge says Eric gave him a kick in the pants, Eric wants him out. Ridge tells Brooke what a great mom she is. Ridge continues to give Brooke compliments. Ridge too Brooke he misses her.
The Bold And The Beautiful Spoilers – Taylor Hayes Urges Deacon Sharpe To Make A Move
Taylor says that Steffy made it clear she wasn't trying to cause trouble. Brooke says Hope doesn't have feelings for Thomas. Taylor says Brooke didn't listen to her and Hope does have Logan blood in her. Brooke asks Taylor what that is supposed to mean. Taylor says she isn't trying to fight. Taylor says Brooke has nothing to worry about unless Hope is having feelings for Thomas.
Brooke thought they were friends. Taylor has been very respectful of how Brooke has felt about her son. Brooke says their pact meant a lot to her. Brooke leaves before she says anything else. Taylor gets her purse and leaves as well. Taylor goes back to speak to Deacon. Taylor tells Deacon that she forgot that Brooke was Brooke Logan. Deacon reminds Taylor that she and Brooke are supposed to be friends.
Taylor says Deacon's feelings for Brooke have never changed. Deacon says Taylor didn't come down here for that. Taylor isn't trusting Brooke right now. Taylor claims she isn't trying to manipulate Brooke. Deacon is handsome and successful and charming.
Taylor wishes Deacon could see what she sees. Deacon says Taylor has a knack for making people feel good about themselves. Taylor says Deacon may be the key to ending this cycle that has been going on for so long. Taylor pushes Deacon to call Brooke now.
Be sure to catch up on everything happening with B&B right now. Come back here often for The Bold And The Beautiful spoilers, news, and updates.