The Bold And The Beautiful Spoilers: Brooke Senses Taylor Trying To Push Her To Deacon
The Bold and the Beautiful spoilers document that Brooke Logan (Katherine Kelly Lang) had a sit-down with Taylor Hayes (Krista Allen). The meeting at Forrester Creations' executive office was about, what else, family.
Taylor was surprised to hear that Hope Spencer (Annika Noelle) made degrading comments about Thomas Forrester (Matthew Atkinson) to Brooke. Allen's character learned what happened from Thomas, who sought her input.
The above led Taylor to solicit Brooke's current feelings about Thomas.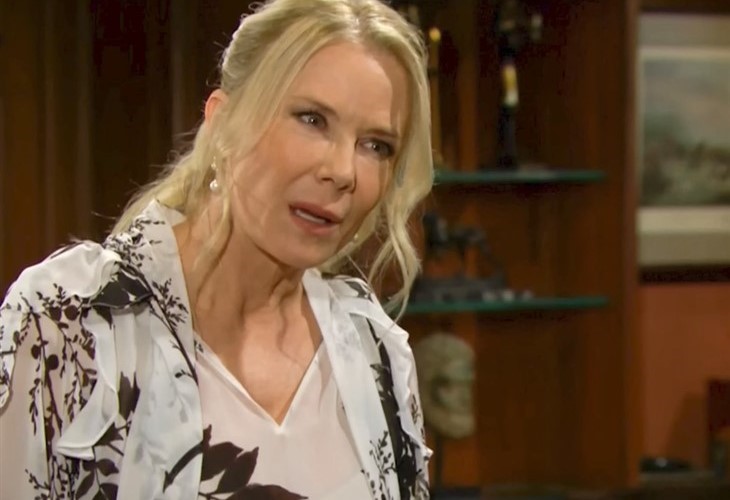 The Bold And The Beautiful Spoilers – Hope Spencer Over-Compensates In Response
It only took Brooke a few minutes to see why Hope was responding as she did. After questioning Hope's feelings for Thomas, Noelle's character tore down his character.
Telling her mother that Thomas was mentally unstable and that there would never be anything romantic between them was an impulse response. Brooke determined it was what Hope thought she would want to hear to calm any troubling soapy waters.
Thomas overheard Hope's latest emotional conversation about him. He was shaken because all seemed to be going well with Hope and everyone else since he was allowed to return as Hope for the Future's lead designer.
B&B Spoilers – Taylor Hayes Tries To Push Another Guy
Taylor wants Brooke to be happy. So, when seeing that Paul Hollis Hollister (Hollis W. Chambers) was taken with Brooke, Taylor encouraged a get-together.
Longtime fans appreciated that the persevering background character, Paul, got a taste of the daytime spotlight. Kudos to Chambers for making the most of the mini storyline that saw Hollis ask Brooke out and share a few kisses at the Logan mansion. Hopefully, this opens more spotlight opportunities for the actor.
Brooke liked Hollis but did not want to pursue a relationship with him. But Deacon Sharpe's (Sean Kanan) backstory is different.
The Bold And The Beautiful Spoilers – Brooke Logan Coming Off Challenge
The pact Brooke and Taylor established is real. They have sustained their truce and have not sought to go behind each other's backs to reconcile with Ridge Forrester (Thorsten Kaye) at this point in the plot.
However, Taylor will try to set Brooke up with Deacon. The recent challenge Taylor made, regarding Hope's intentions toward Thomas, rattled Brooke. So, Lang's character may consider whether Taylor's efforts are part of a larger plan.
Pushing Brooke to Deacon could be an attempt to keep her away from Ridge, with Allen's character becoming his landing spot on B&B.
This site is a leading source for everything linked to The Bold and the Beautiful. Check back regularly for B&B spoilers and news!