B&B Recap Friday, September 29: Taylor Learns Shocking News, Hope Is Thomas' Inspiration, Deacon Proposes
The Bold And The Beautiful recap for Friday, September 29, 2023, indicate that Taylor Hayes (Krista Allen) cannot believe that John "Finn" Finnegan (Tanner Novlan) has to be warned about Sheila Carter (Kimberlin Brown).
The Bold And The Beautiful Recap Highlights
Sheila is incapable of loving anyone or of being loved. Sheila tells Deacon Sharpe (Sean Kanan) how he saved her. Sheila says having her in his life could destroy Deacon's relationship with Hope.
Thomas Forrester (Matthew Atkinson) tells Hope Logan (Annika Noelle) that he needs some late-night inspiration.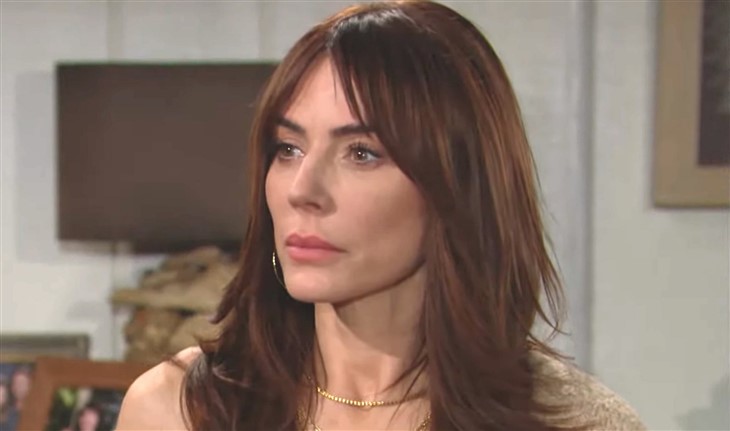 B&B Recap – Taylor Hayes Gets Stunning News
Taylor is shocked to learn that Hope and Thomas are sleeping together. Taylor wants to know how Brooke Logan (Katherine Kelly Lang) and Ridge Forrester (Thorsten Kaye) could allow this to happen.
Taylor says this could ruin Thomas' recovery. Hope tells Brooke and Ridge that someone else knows now because Taylor just walked in on her and Thomas.
The Bold And The Beautiful Spoilers – Thomas Forrester Needs Inspiration
The Bold And The Beautiful spoilers reveal that Thomas decides to rub Hope's shoulders. Hope wants to make sure they are on the same page.
Thomas says they are but that doesn't mean that he doesn't love only Hope. Thomas knows that Hope just got divorced and she isn't ready to move on. Thomas tells Hope that he loves when they are intimate.
Hope and Thomas start to kiss and Taylor interrupts. Taylor tells Thomas he doesn't need to be doing this. Thomas is going to end up in the same place he was before.
READ THIS: Find out what happens next on The Bold and The Beautiful.
Thomas says he appreciates Taylor's concern but he knows what he is doing. Taylor says Hope is more like Brooke than they thought. Thomas may wake up one day and realize this too late.
B&B Recap – Deacon Sharpe Proposes
Deacon brings out all of Sheila's favorites. Deacon wants tonight to be perfect and to discuss where they go from here. Deacon and Sheila begin to dance.
Sheila tells Deacon that the world is right outside the door. Sheila doesn't want to be the reason Deacon loses everything he has worked so hard for. Deacon tells Sheila he is a big boy.
Deacon needs to make his own mistakes. Sheila turned his world upside down. Deacon says being with Sheila is wild and crazy. This is a ride that Deacon doesn't want to get off of.
Deacon is crazy about Sheila and never wants to be apart from her again. Deacon says life is a gamble and anything worth having is. Deacon asks if Sheila will make him the happiest and craziest man in LA and marry him.
Be sure to catch up on everything happening with B&B right now. Come back here often for The Bold And The Beautiful spoilers, news, and updates.