B&B Recap Wednesday, September 27: Taylor Pushes Finn, RJ Keeps Eric's Secret, Deacon Plays With Fire
The Bold And The Beautiful recap for Wednesday, September 27, 2023, indicate that John "Finn" Finnegan (Tanner Novlan) finds his son's truck under a chair.
Finn stares at photos of himself and Steffy Forrester (Jacqueline MacInnes Wood). Taylor Hayes (Krista Allen) arrives and says she is there to talk some sense into him.
Sheila is forever grateful to Deacon. RJ Forrester (Joshua Hoffman) tells Donna Logan (Jennifer Gareis) that he needs to tell Ridge Forrester (Thorsten Kaye)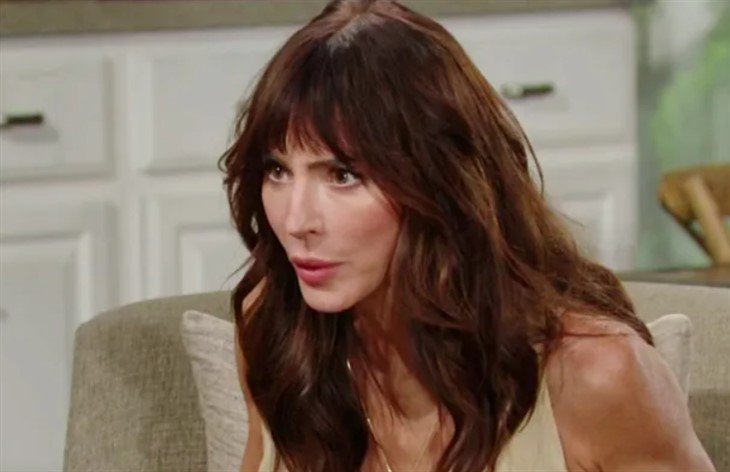 The Bold And The Beautiful Recap Highlights
Donna begs RJ to keep working with Eric and not tell Ridge. Carter Walton (Lawrence Saint-Victor) tells Ridge they cannot create two Coutour lines.
Brook pushes Ridge to talk to RJ. Donna tells Ridge everything that is going on with Eric. Donna says RJ needs to help his grandfather. RJ doesn't believe this is helping Eric. Donna tells RJ that Eric has to go out on top.
Brooke sees what a toll this is taking on Ridge. Ridge wonders why Eric is doing this. RJ says he can tell Ridge why. Ridge and Brooke are worried about Eric.
Ridge needs to know if something else is going on. RJ remembers what Donna said. RJ tells Ridge that Eric needs to do this collection. RJ thinks Ridge needs to give Eric the support that he needs to do this.
B&B Recap – Deacon Sharpe Wants Sheila Carter To Stay
The Bold And The Beautiful spoilers suggest that Sheila and Deacon discuss him helping her. Sheila says she is committed to remaining a part of her son's life and Deacon's.
Deacon believes everyone has a chance to be loved and everyone deserves a second chance. Sheila wonders if visiting her in prison brought up some bad memories.
Sheila asks Deacon how he knows the judge. Sheila has changed a lot because of Deacon. Sheila has changed Deacon too. Sheila says she knows they broke up.
Deacon says it is too dangerous. Deacon has worked so hard for everything he has. Sheila says Deacon is a perfect example of how things can be if you can prove you have changed.
READ THIS: Find out what happens next on The Bold and The Beautiful.
Sheila promises to stop just dropping by. Sheila will never forget everything Deacon has done. Sheila thanks Deacon and says goodbye. Deacon stops her. Deacon is crazy but he has been alone too long. Deacon doesn't want to be alone anymore.
The Bold And The Beautiful Recap – Taylor Hayes Demands John Finnegan Gets Rid Of Sheila Carter
Taylor was with Steffy but now she is in town to make sure he fixes things. Finn asks how Steffy and the kids are. Finn misses them terribly.
Finn hates the impact this is having on them. Taylor says Finn has to take the necessary steps to get rid of Sheila or his wife isn't coming home.
Taylor says Sheila was never a loving mother to Finn. Li Finnegan (Naomi Matsuda) has always been his mother.
Taylor tells Finn to step up and prove to Steffy it is safe to come home to him. Finn will do everything possible to keep Steffy safe.
Nothing is going to keep them apart. Finn says his love for Steffy gave him the strength to come back to Steffy.
Taylor tells Finn to deal with Sheila and she doesn't care how he does it. Finn needs to do everything he can to make that happen.
Be sure to catch up on everything happening with B&B right now. Come back here often for The Bold And The Beautiful spoilers, news, and updates.