B&B Spoilers and Recap Friday, March 31: Ridge's Strange Message, Sheila's Heart Attack, Bill Praised
The Bold And The Beautiful spoilers and recap for Friday, March 31 Chief Deputy Baker (Dan Martin) gets ready to arrest Sheila Carter (Kimberlin Brown). Sheila runs and goes into the alley where she shot John "Finn" Finnegan (Tanner Novlan) and Steffy Forrester (Jacqueline MacInnes Wood). Sheila grabs her chest as Bill Spencer (Don Diamont) tells her the ring he gave her is fake just like his feelings for her. Sheila leans into Bill before starting to collapse. Sheila falls to the ground. Ridge Forrester (Thorsten Kaye) asks what is wrong with her, Bill says she is faking a heart attack.
The Bold And The Beautiful Spoilers – John Finnegan Rushes To Sheila Carter's Room
The Bold and The Beautiful spoilers reveal Steffy tells Finn she has a pain right here and he kisses her. Steffy tells Finn he is a good doctor. Sheila arrives at the hospital with a confirmed heart attack. Li Finnegan (Naomi Matsuda) is the attending physician. Finn gets called to the ER. Finn and Steffy go to the ER. Li wants Sheila dead. Finn arrives and is shocked that Li isn't trying to save Sheila. Li says let Sheila die. Finn doesn't know what to do.
B&B Spoilers – Ridge Forrester Has News For Everyone
Stephen Logan (Patrick Duffy) shows up at Eric Forrester's (John McCook) with the rest of the family. Stephen says Ridge jumps ship when he doesn't get his way. Taylor Hayes (Krista Allen) and Brooke Logan (Katherine Kelly Lange) defend Ridge. Carter Walton (Lawrence Saint-Victor) and Katie Logan (Heather Tom) arrive. Katie doesn't understand why Ridge wants to see them all. Everyone tries to figure out what is going on. Ridge finally arrives. Taylor and Brooke ask why Ridge is there. Brooke and Taylor question why Ridge has been gone so long.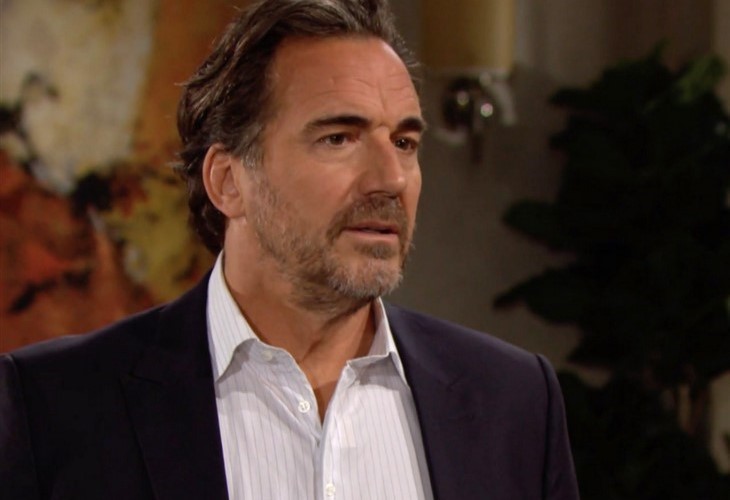 Everyone demands answers. Stephen goes after Ridge while they are waiting for Bill. Sheila has been on the loose because of Bill. Ridge gets it from everyone there. Eric tries to throw Bill out when he arrives. Ridge has something to say to everyone. Bill and Katie stare at each other. Everyone attacks Bill before Ridge can get a word in edgewise. Ridge tells everyone he is trying to explain something. Ridge says they can all take a sigh of relief because of what Bill has done. Taylor says they are in danger because of Bill. Bill tries to explain but is interrupted again.
The Bold And The Beautiful Spoilers – Deacon Sharpe Praises Bill Spencer's Work
Bill tells Ridge and Deacon Sharpe (Sean Kanan) that Sheila was fine until she found out she was cornered. Ridge tells Bill about his text to Eric. Ridge talks about working with Deacon and Bill. It is revealed how Deacon got involved. Ridge says Deacon came through for them. Ridge says Deacon fell for Sheila somehow. Bill thinks he must have regrets. Bill and Ridge promise to stay quiet about Sheila.
Deacon says Bill must be eager to get to Eric's. Deacon praises Bill for his part in this. Deacon says the town should throw him a party. Bill wishes Sheila would have a real heart attack. Bill grabs a beer and walks out the door leaving Deacon at the bar.
Be sure to catch up on everything happening with B&B right now. Come back here often for The Bold And The Beautiful spoilers, news, and updates.