Bold & The Beautiful Spoilers Wednesday, August 30: Liam Gets Bill to Confess – Sheila Vows to Never Stop – Ridge is Voice of Reason – Steffy Feels Bad for Sally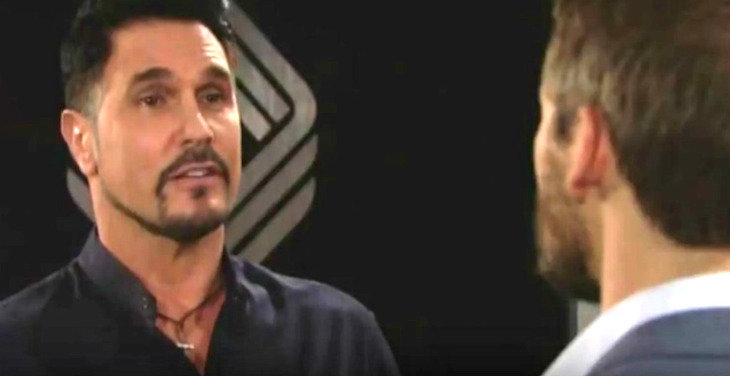 "The Bold and the Beautiful" (BB) spoilers for Wednesday, August 30th tease that we will have a day filled with confessions, sympathy and so much more. It is going to be jam packed with drama so you will not want to miss it!
Over at Spencer Publications, Dollar Bill Spencer (Don Diamont) will be gloating over the fact that he put Spectra Fashions out of business. His son Liam Spencer (Scott Clifton) will not be too happy, though and he will call his dad out on his evilness! They will engage in a heated argument and it will end with Bill admitting to what he has done. So now Liam will have a huge decision to make. Does he turn his own dad over to the authorities? It may just come down to that!
Related: Bill Wants Spectra To Disappear – Sally Feels Insecure, Calls Thomas – Shirley Is Confident
 Then over at the Forrester mansion, Quinn Forrester (Rena Sofer) will sit down and have a talk with her husband Eric Forrester (John McCook) about all the events that have taken place surrounding Shelia Carter (kimberlin Brown). Eric fell for Shelia's tricks, but as of now he has sent her packing. Eric and Quinn will disagree about Shelia's motives and Ridge Forrester (Thorsten Kaye) will become the voice of reason.
Related: Liam Furious At Bill's Sabotage – Quinn Taunts Sheila
Speaking of Ridge Forrester, he will have a talk with his daughter Steffy Forrester Spencer (Jacqueline Wood) over at Forrester Creations. Steffy will tell her dad that she actually feels sorry for Sally Spectra (Courtney Hope). Did you think you would ever see the day that those words would come out of her mouth? Steffy will struggle at hiding what she knows about Bill and his involvement. Do you think she will end up coming clean about what she knows?
Affiliate links included below. Thanks for your support!
Shelia Carter is not giving up yet. She will vow to get back in the Forrester mansion. So you fans can expect to still see her continue with her manipulative ways. She wants her portrait above that mantle and Eric back by her side and she will not stop until she gets her way. What do you think she will do next to try to win Eric back? Make sure to stay tuned to CBS's "The Bold and the Beautiful" to find out!