Bold And The Beautiful Spoilers Monday, March 11: Flo Faces Zoe's Fury Over Connection To Wyatt – Sally Brings Up A Baby Clue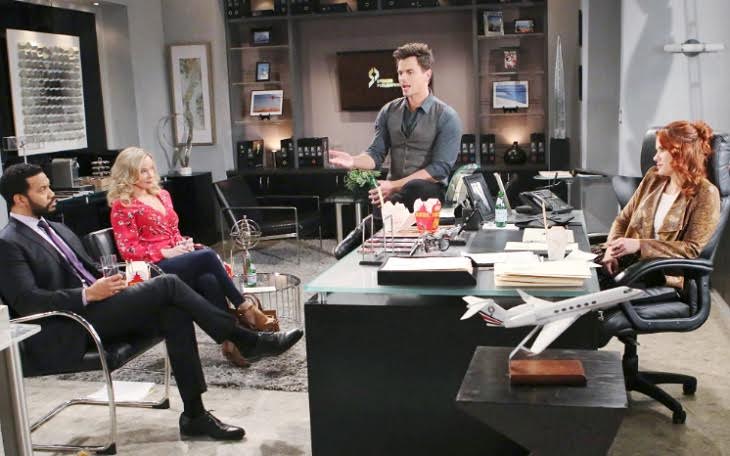 The Bold and the Beautiful (B&B) spoilers for Monday, March 11, tease that Zoe Buckingham (Kiara Barnes) will be on a desperate mission. She hoped Florence "Flo" Fulton (Katrina Bowden) would listen when she told her to leave town. Zoe just wants to eliminate this unnecessary threat to Dr. Reese Buckingham's (Wayne Brady) plot.
However, Flo seems determined to make things worse. Zoe will call her out on that in Monday's heated confrontation. She'll note that she saw the selfie Wyatt Spencer (Darin Brooks) posted and wonder what Flo thinks she's doing. Zoe won't understand why Flo would want to grow closer to Hope Spencer (Annika Noelle) and all the people in her life.
B&B spoilers say Zoe will blast Flo for agreeing to attend Wyatt's dinner party. She'll be thrown for a loop when Flo explains her link to Wyatt. Zoe won't be happy about the high school sweetheart bombshell. She'll argue that this is even more of a reason for Flo to leave Los Angeles immediately.
Bold And The Beautiful – Flo Still Wants To Tell Hope The Truth
Of course, Flo won't want to do that. Instead, she'll revisit the idea of confessing and enrage Zoe all over again. Flo knows there's a lot at stake, but she hates seeing Hope in so much pain. There's also the fact that Wyatt is Liam Spencer's (Scott Clifton) brother. That'll weigh heavily on Flo's heart, too. She'll start to think reuniting Hope with her baby is worth the consequences.
While Zoe tries to keep Flo quiet, Sally Spencer (Courtney Hope) will reflect on meeting Flo and hearing her situation. She'll feel sorry for both Hope and Flo, who are clearly in great pain. Sally will point out that both women were pregnant at the exact same time, but neither one of them took a baby home.
The Bold and the Beautiful spoilers say Sally's comment could get some wheels turning. Will Liam develop more suspicions after this? What about Wyatt? Regardless, Flo can't keep her role in the adoption scam a secret forever. She can only delay the inevitable explosion of the big reveal!
Zoe abruptly leaves Xander when she sees a photo of Flo posted to social media. WATCH FULL EPISODE: https://t.co/onZ8O2xxqY #BoldandBeautiful pic.twitter.com/CfUJcDPUA9

— Bold & The Beautiful (@BandB_CBS) March 9, 2019
B&B fans won't want to miss "The Bold and the Beautiful" shockers ahead. We'll give you updates as other news and rumors emerge. Stay tuned to the CBS soap and don't forget to check CTS often for the latest "Bold and the Beautiful" spoilers, rumors, updates and news.
Want up-to-the-minute soaps news, spoilers, and gossip on your social feeds? Just hit 'Like' on our Facebook page and 'Follow' on our Twitter account.