Bold And The Beautiful Spoilers: Will Flo Come Between Wyatt and Sally?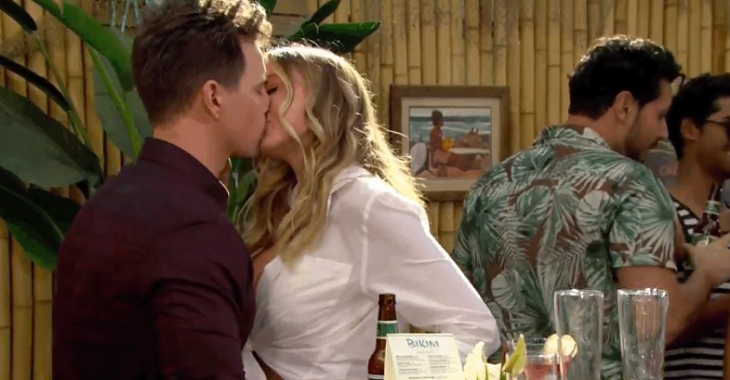 The Bold and the Beautiful spoilers indicate that Flo (Katrina Bowden) will cause Sally (Courtney Hope) and Wyatt (Darin Brooks) to break up.
Fans of Sally and Wyatt knew the couple was going to face some type of drama. They figured that the return of Thomas (Matthew Atkinson) would play into the couple's break up. However, it's Wyatt's ex Flo, who could be the reason for Wally's split.
It was revealed that Wyatt and Flo were once high school sweethearts. The two were getting serious in their relationship until Wyatt had to leave town with his mother Quinn (Rena Sofer). Wyatt and Flo never got to have their closure, and there are still feelings between the two.
Bold And The Beautiful – Does Sally See Flo As A Threat?
But there's one person standing in their way.
Wyatt and Sally have become a favorite couple with viewers. They've both experienced heartache in the past, but now they've found happiness with each other. But that happiness could be short-lived if Flo stays in the picture.
Sally isn't too happy learning that Wyatt's ex is staying in town and that the two are friends. Flo is going to be a source of contention for Sally and Wyatt, and this may just be the thing that leads to the couple splitting up.
Bold And The Beautiful – Will Flo Make A Move On Wyatt?
Wyatt's a good person and wants to remain friends with Flo, and help her in any way he can. Sally's jealousy will become too much for Wyatt to handle and he'll eventually reach his breaking point.
With Sally out of the picture, Flo is going to make her move and try to reconcile with Wyatt. But the question is whether he'll want to reunite with Flo or try to work things out with Sally.
Bold And The Beautiful Spoilers: Will Steffy Run Away With Beth When The Truth Comes Out? https://t.co/dV2rdKlTp2 pic.twitter.com/BHOLJZ6aar

— SOS/CTS/HH (@SoapOperaSpy) March 8, 2019
Do you think Flo will break up Sally and Wyatt? Do you want to see him with Flo or does his heart belong to Sally?
Want up-to-the-minute soaps news, spoilers, and gossip on your social feeds? Just hit 'Like' on our Facebook page and 'Follow' on our Twitter account.