The Bold and the Beautiful Spoilers Friday, March 8: Taylor Urges Steffy to Reunite with Liam – Flo Tries to Clean Up Her Mess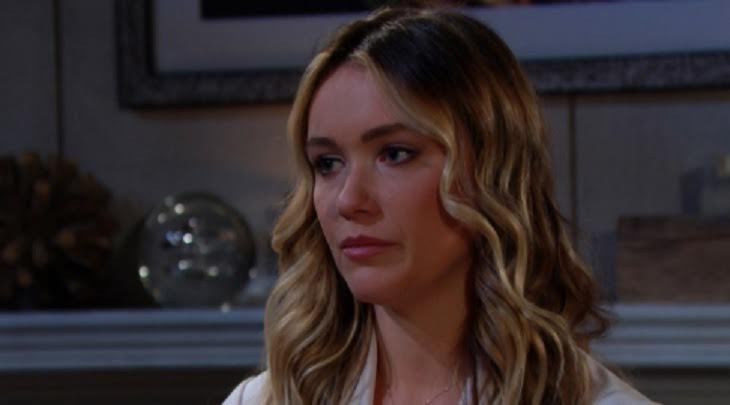 "The Bold and the Beautiful" spoilers for Friday, March 8, tease that Steffy Forrester (Jacqueline MacInnes Wood) will continue to reflect on her life with the girls. She's thrilled to have made "Phoebe Forrester" (Isabella de Armas and Redford Prindiville) part of the family. Steffy just can't imagine a better little sister for Kelly Spencer (Zoe Pennington and Chloe Teperman).
However, Dr. Taylor Hayes (Hunter Tylo) will wonder if Steffy's truly content. Is Steffy's family as complete as she thinks it is? Taylor knows Steffy still has a lot of love left for Liam Spencer (Scott Clifton). She understands that Steffy can't just shut off her feelings, even if Liam's married to Hope Spencer (Annika Noelle) now.
Steffy may point out that Liam's firmly committed to his wife. She'll indicate that Hope desperately wanted Liam to be a family with Steffy, Kelly and "Phoebe," but he quickly shut the idea down. Liam has no intention of bailing on Hope when she needs him most.
Feeling enormously guilty, Flo desperately wants to tell Hope the truth about her baby. WATCH FULL EPISODE: https://t.co/j5ZTFqSQqi pic.twitter.com/g9EXghn7wL

— Bold & The Beautiful (@BandB_CBS) March 7, 2019
Steffy gets why and wants to support "Lope," but Taylor won't be sure her daughter's doing the right thing. This is Steffy's big chance to make all her dreams come true. "The Bold and the Beautiful" spoilers say Taylor will push Steffy to reconsider. She'll feel like Steffy should fight for a future with Liam while she still can.
Other B&B spoilers state that Florence "Flo" Fulton (Katrina Bowden) will nearly divulge the truth. She's so tempted to pour her heart out to Hope, but the consequences could be brutal. In the end, Flo will decide she can't reveal "Phoebe" is actually Beth Spencer. It could land her behind bars along with Dr. Reese Buckingham (Wayne Brady), so Flo will keep her huge secret.
Instead, Flo will cover her baby blunder and make up a different excuse. She was just about to tell Hope, Liam, Sally Spectra (Courtney Hope) and Wyatt Spencer (Darin Brooks) something about "Phoebe." Flo may ask if they can forgive her for giving away a child when Hope couldn't keep hers.
"The Bold and the Beautiful" spoilers say the week will wrap up with some exciting scenes. We'll give you updates as other B&B news and rumors emerge. Stay tuned to the CBS soap and don't forget to check CTS often for the latest "Bold and the Beautiful" spoilers, rumors, updates and news.
Want up-to-the-minute soaps news, spoilers, and gossip on your social feeds? Just hit 'Like' on our Facebook page and 'Follow' on our Twitter account.