Bold and the Beautiful Spoilers Thursday, December 27: Hope's Crazy Airport Encounter, Liam Delayed – Danger Looms for Zoe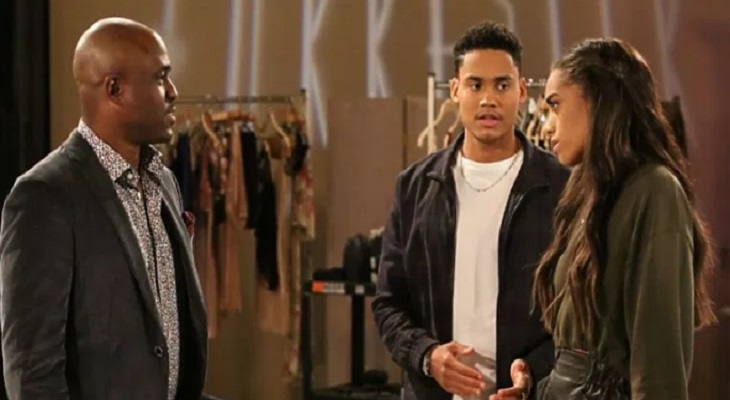 "The Bold and the Beautiful" spoilers for Thursday, December 27, tease that Reese Buckingham's (Wayne Brady) problem will become an even bigger one. He owes $200,000 from some debacle in Las Vegas, so a mystery thug's putting plenty of pressure on him. This guy's boss wants his money and he's not above using violent threats to make it happen.
Zoe Buckingham (Kiara Barnes) will get pulled into the drama on Thursday. B&B fans know she's been concerned about Reese and why he's really in Los Angeles. Reese often has to run from his mistakes and that's certainly what he's doing – or at least trying to do. That plan can't last for long, especially thanks to the danger Zoe's about to land in.
"The Bold and the Beautiful" spoilers say the thug will offer a grim warning. It'll become clear to Reese that Zoe's life is on the line. If he can't come up with the cash, Zoe could face a grim fate. This goon may even do something to prove his point. Once Reese knows what he's truly up against, he'll do whatever it takes to keep Zoe safe. Unfortunately, that means other characters will have to suffer.
In the meantime, Hope Spencer (Annika Noelle) will be ready to enjoy her babymoon. Liam Spencer (Scott Clifton) agreed to the trip, but some snags are about to strike. "The Bold and the Beautiful" spoilers say Kelly's fever will delay Liam, so he'll send Hope ahead of him to Catalina Island. That decision will spark serious chaos eventually, but it'll just bring a comical encounter for now.
Reese must keep his cool while trying to avoid a mysterious stranger at Il Giardino. WATCH FULL EPISODE: https://t.co/onZ8O2xxqY #BoldandBeautiful pic.twitter.com/mi3Ux15Ouw

— Bold & The Beautiful (@BandB_CBS) December 24, 2018
Monica Horan and Jim O'Heir will reprise their roles as Kieran and Matt Cannistra, the zany travelers who tend to pop up whenever flights are involved. Hope will have a humorous interaction with these two at the airport, so B&B fans won't want to miss it. Matt and Kieran always deliver a few laughs!
"The Bold and the Beautiful" has some terrific scenes in store. We'll give you updates as other B&B news and rumors emerge. Stay tuned to the CBS soap and don't forget to check CTS often for the latest "Bold and the Beautiful" spoilers, rumors, updates and news.
Want up-to-the-minute soaps news, spoilers, and gossip on your social feeds? Just hit 'Like' on our Facebook page and 'Follow' on our Twitter account.