Bold and the Beautiful Spoilers Thursday, January 3: Determined Liam's Frightening Flight – Reese Gets a Disturbing Zoe Message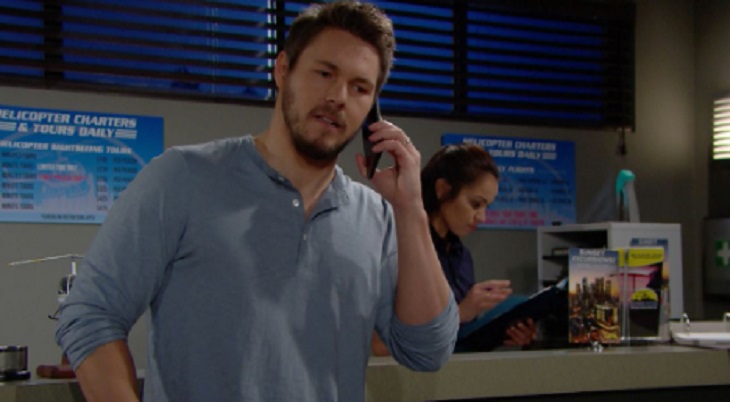 "The Bold and the Beautiful" spoilers for Thursday, January 3, tease that Liam Spencer (Scott Clifton) will endure a frightening flight. The Spencer chopper will take Liam to Catalina Island, but it'll take longer than he wants. As the storm intensifies during the night, it'll provide some huge speed hurdles.
Liam wants to get to Hope Spencer (Annika Noelle) quickly and help her through this difficult labor. Unfortunately, the process of getting there will be slow instead. This helicopter will certainly encounter some turbulence along the way, which should lead to some scary moments.
However, Liam's biggest fear will be that something could go wrong and Hope would have to suffer alone. His second biggest fear will be missing the birth of his daughter. Liam doesn't want either of those things to happen, so he'll hold out hope that he can make it.
The weather will continue to be uncooperative, but at least Liam is on his way! Meanwhile, Brooke Forrester (Katherine Kelly Lang) will likely get updates. Bill Spencer (Don Diamont) may fill Brooke in on Hope's troubling dilemma as well as the one he helped Liam tackle.
Brooke will be grateful when Bill schedules a flight for her, too. Of course, Bill will let Ridge Forrester (Thorsten Kaye) tag along for the ride. They all care about Hope's well-being here. Other "Bold and the Beautiful" spoilers say danger will be lurking for Zoe Buckingham (Kiara Barnes).
Big dreams may be shattered this week on #BoldandBeautiful. 💔 Every second counts, so don't miss a minute! pic.twitter.com/jcBTYho2e4

— Bold & The Beautiful (@BandB_CBS) December 31, 2018
A thug's been threatening Dr. Reese Buckingham (Wayne Brady) and he's not kidding around. Just to show how serious he is, this thug will snap some disturbing pictures of Zoe and send them to Reese's cell phone. Once Reese sees his latest texts, he'll grow increasingly concerned. Zoe could be severely injured or even die if Reese doesn't come up with the cash.
A sneaky plan will form and it's not going to end well for "Lope." B&B spoilers hint that major baby drama is looming and Dr. Buckingham will be pulling the strings! "The Bold and the Beautiful" spoilers say this storyline will bring some crazy twists, so stay tuned.
The question is, how will Reese raise the $200K to pay off his gambling debt? Don't forget to come back later for more Bold and the Beautiful (B&B) spoilers, news, and casting updates!
Want up-to-the-minute soaps news, spoilers, and gossip on your social feeds? Just hit 'Like' on our Facebook page and 'Follow' on our Twitter account.