The Bold And The Beautiful Spoilers: Bill Secretly Using Sheila, Don Diamont Hints Twist
The Bold and the Beautiful spoilers reveal that nobody quite understands what Bill Spencer (Don Diamont) is thinking. Bill has even chosen Sheila Carter (Kimberlin Brown) over his own family. However, Diamont hinted during an interview that Bill might be using Sheila just as much as she is using him. So, let's discuss what that could mean for the characters.
B&B spoilers reveal that eventually, Sheila's death was discovered to be fake. It was Sheila's own son, John "Finn" Finnegan (Tanner Novlan) who finally figured it out. At the time, Sheila was being hidden by Deacon Sharpe (Sean Kanan). Even though Sheila was in a romance with Deacon, she pulled some fast moves to get an unexpected character on her side once the "dead" jig was up.
In a desperate move, Sheila made a plea to Bill. Even though Bill had Sheila arrested, he soon would have a change of heart. That is when Sheila got away with her crimes once Bill put a plan in motion.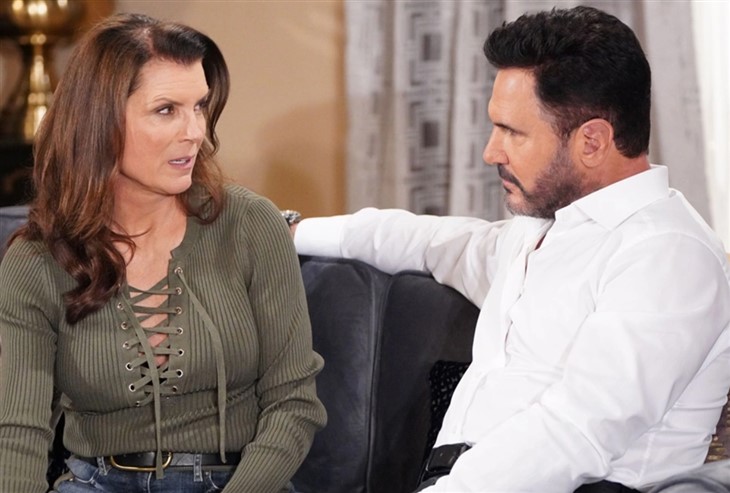 The Bold And The Beautiful Spoilers – Bill Spencer's Despair
Under normal circumstances, Bill wouldn't think twice about sending Sheila to prison. However, Bill hasn't exactly been himself lately. At one point in Bill and Sheila's storyline, Diamont explained that the character feels despair. However, is there more to this story? Are there some kind of clues that maybe Bill hasn't lost his mind after all?
The Bold and the Beautiful spoilers reveal that Diamont spoke to Soap Opera Digest about the storyline. The actor confessed that he doesn't know what Bill's real interest in Sheila is right now. However, Diamont added that Bill is interested in redemption and feels that Sheila can help him do that. "… at this point in his life, Bill is interested in righting past wrongs and with Sheila, maybe he feels that in some way, she can help him accomplish that."
In other interviews, Diamont mentioned that Bill thinks Sheila is exactly what he deserves. So, it sounds like Bill is living with a lot of guilt. However, Bill's interest in Sheila might not really be romantic.
B&B Spoilers – Unexpected Twist
At first, Bill might have thought Sheila was the person he deserved. However, Bill seems to be buying Sheila's remorse story. In fact, that's why Bill wants to help Sheila reconnect with Finn. However, there is a very big difference between Bill and Sheila. While Bill feels terrible about the bad decisions in his life and wants redemption, Sheila doesn't take any responsibility. In Sheila's mind, it's always someone else's fault and that makes her unredeemable as well as dangerous.
Perhaps this is Bill's long game to earn the ultimate redemption. Maybe Bill is playing Sheila and plans on taking her down for good. If that is the case, will Bill ever let anyone know about his plan?
Share your thoughts on what Don Diamont had to say about Bill's relationship with Sheila. Remember to keep watching the CBS soap to find out what happens next. Be sure to catch up on everything happening with B&B right now. Come back often for The Bold and the Beautiful spoilers, news, and updates.