The Bold And The Beautiful Spoilers: Brooke And Taylor Offer To Take Douglas
The Bold And The Beautiful spoilers indicate that Douglas Forrester's (Henry Joseph Samiri) request to stay at Steffy Forrester's (Jacqueline MacInnes Wood) is not only not feasible but it is downright dangerous right now. Brooke Logan (Katherine Kelly Lang) and Taylor Hayes (Krista Allen) may propose another solution. Douglas can move in with them at Brooke's house.
The Bold And The Beautiful Spoilers – Douglas Forrester Doesn't Want To Choose Between His Parents.
The Bold and The Beautiful spoilers reveal that Douglas doesn't want to choose between his parents. Douglas loves his mom and his dad. Douglas has been put in the middle way too many times. Douglas is always having to clean up his father's messes and it isn't fair to the young boy. Douglas simply wants to get to be a kid.
Douglas was fine living with his mom, but Thomas Forrester (Matthew Atkinson) wanted the change. Thomas thought that Douglas would choose him but now he hasn't chosen either parent but his aunt Steffy instead. Thomas put his son in this situation because of his lies and deceit. No one took Douglas from Thomas. Thomas tried to force his son to lie once again to cover for him.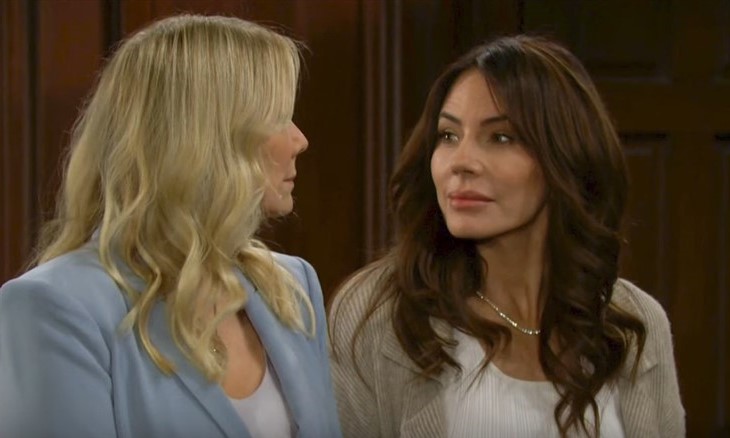 B&B Spoilers – Brooke Logan And Taylor Hayes Could Live Together
Brooke has invited Taylor to move in with her. Brooke and Taylor have become great friends. Brooke has security to keep Douglas safe from Sheila Carter (Kimberlin Brown), at least safer than he would be at Steffy's with Sheila dropping in whenever she wants. Douglas' grandmothers could offer him a safe place with both of them on hand instead of putting Steffy in the middle.
Brooke and Taylor are supposed to agree not to let family drama come between them, this would be a great test of that. Could Brooke and Taylor give Douglas the break from the family drama that he needs by moving him in with them? Would Douglas be ok with living with his grandmothers since he has expressed that desire to move in with Steffy?
The Bold And The Beautiful Spoilers – Douglas Forrester Needs A Break
Douglas needs some time so that he isn't caught in the middle of this tug-of-war between his parents. Thomas and Hope Spencer (Annika Noelle) need to look at the pressure that is being put on Douglas, especially by asking him to choose between them. Douglas truly needs to be where he isn't shuffled around or constantly pressured to choose.
Brooke and Taylor could work together so Douglas could visit with both parents and not have to choose which one of them he wants to stay with. Too much pressure is being put on this child and something needs to change. Will Thomas' grandmothers stand up and tell the family that enough is enough? Would Douglas be better off with Brooke and Taylor at this point?
Be sure to catch up on everything happening with B&B right now. Come back here often for The Bold And The Beautiful spoilers, news, and updates.