The Bold And The Beautiful Spoilers: Brooke's Jealousy Goes Overboard, Livid Over Deacon's Love For Sheila?
The Bold and the Beautiful (B&B) spoilers tease that Brooke Logan (Katherine Kelly Lang) will lose her mind when she learns of Deacon Sharpe's (Sean Kanan) feelings for Sheila Carter (Kimberlin Brown). Brooke thought she was over Deacon, and they had an understanding and genuine friendship. However, his love for Sheila sends Brooke over the edge.
Deacon asked Brooke to marry him several times in recent months. He wanted a life with her and considered her the one that got away. However, Brooke let her ex know she is still in love with Ridge Forrester (Thorsten Kaye) and wants to wait for him to return to her.
The Bold And The Beautiful Spoilers – Brooke Logan's Jealousy Over Sheila Carter Creates Tension
Brooke discovers that Deacon could be in love with Sheila. It gets under her skin as she realizes he isn't pining after her. She informs Hope Logan (Annika Noelle) about her father's relationship with Sheila. They are stunned that Deacon would allow himself to fall for the felon.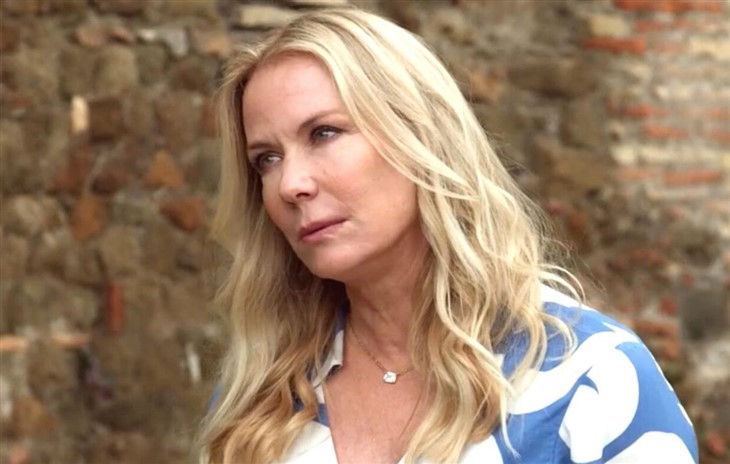 The Bold and the Beautiful spoilers say Brooke doesn't understand her jealousy. She's happy with Ridge and looking forward to taking things to the next level and getting remarried. However, she cannot shake the jealousy over Deacon's feelings for Sheila. She considers flirting and luring Deacon to get him away from Sheila.
B&B Spoilers – Bridge Is In Trouble—Brooke Logan Self-Destructs
Brooke's life is spinning out of control. A few weeks ago, she discovered her daughter was in love with Thomas Forrester (Matthew Atkinson). It was a worst-case scenario for her. She knew this would destroy her daughter's marriage. Last week, she walked in on Thomas and Hope making love, learning that Hope's marriage to Liam Spencer (Scott Clifton) was dead.
Hope's relationship with Thomas could cause problems in her own relationship. If she presses too hard to smear Thomas's name, it could upset Ridge and force him to question remarrying Brooke. During the week of July 24, Brooke learns that Deacon is possibly in love with Sheila. It will send her in a tailspin as she feels she's losing control of her life and those around her.
B&B fans, do you think Brooke will destroy her relationship with Ridge over Deacon's love for Sheila? Keep watching Bold and the Beautiful, airing weekdays on CBS and streaming on Paramount Plus. This site is a leading source for everything linked to The Bold and the Beautiful. Check back regularly for Bold and the Beautiful spoilers and news!