The Bold And The Beautiful Spoilers: Deacon Accepts Baker's Deal, Betrays Sheila
The Bold And The Beautiful spoilers suggest that Deacon Sharpe (Sean Kanan) may get an offer he can't refuse when it comes to betraying Sheila Carter (Kimberlin Brown). Spoilers suggest that Ridge Forrester (Thorsten Kaye) may be instrumental in this after he pays Deacon a visit at Il Giardino.
The Bold And The Beautiful Spoilers – Deacon Sharpe Is On Sheila Carter's Side
The Bold and The Beautiful spoilers reveal that currently, Deacon is on Sheila's side and wants her to be happy. Deacon has even encouraged Sheila to move on with Bill Spencer (Don Diamont). After all, Deacon knows that Hope Spencer (Annika Noelle) would never accept Sheila in his life. Hope loves her father but Sheila is entirely too dangerous.
During the week of March 27-31, Sheila may pitch something that is just too much for Deacon to ignore. There is certainly no love loss between Bill and Deacon but what is Sheila's idea is to marry Bill and then kill him.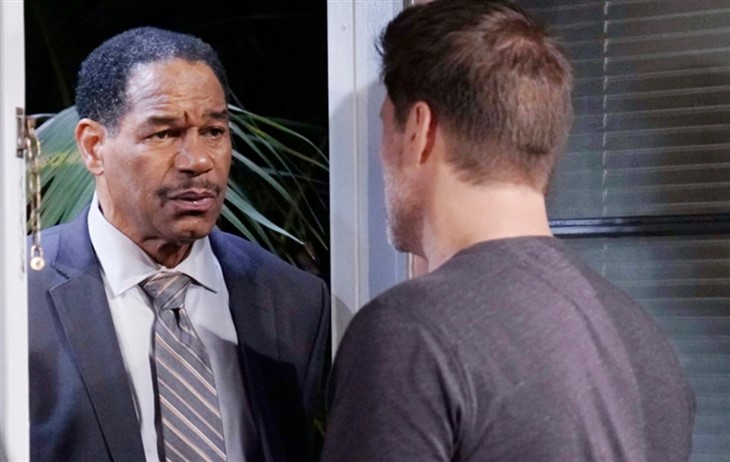 After all, hasn't Sheila told Deacon that she cannot stand to have Bill touch her? Deacon is on parole and could get in a world of trouble for not reporting something like this.
B&B Spoilers – Chief Deputy Baker Returns, Could He Broker A Deal?
Chief Deputy Baker (Dan Martin) will return on March 30, and let's be honest, Baker and his team dropped the ball. Baker and others fell for Sheila's fake death scheme and believed she only left a toe behind. Sheila made a fool of a lot of people, mostly law enforcement. Is Baker willing to help make a deal if it will put Sheila away for good?
Baker may realize that Deacon harbored Sheila while the police were looking for her and lay it on the line, Deacon can talk or walk right back into his nice little cell in prison.
Is Deacon willing to lose his family, his restaurant, and everything dear to him for a woman that ditched him for a rich man? After all, Bill wasn't the one who stuck his neck out for her.
The Bold And The Beautiful Spoilers – Deacon Sharpe Claims To Love Sheila Carter
Deacon claims to love Sheila, however, it is obvious that Sheila does not feel the same. If Sheila loved Deacon, she would not have forced him to let her stay at his place. Sheila would have left Deacon to move in with Bill. And Sheila certainly would not be considering marrying Bill to keep herself out of jail now that all of her charges have been dropped
.
Deacon may be caught between a rock and a hard place but self-preservation teaches one to save themselves. Will Deacon join the ranks of those wanting to put Sheila behind bars? Will Sheila scare Deacon enough that he feels he has no choice but to turn her in before she does something that will get both of them sent to prison for life?
Be sure to catch up on everything happening with B&B right now. Come back here often for The Bold And The Beautiful spoilers, news, and updates.