B&B Recap And Spoilers Monday, March 27: Finn And Steffy Reconnect, Brooke Offers Katie Advice, Sheila Confesses
The Bold And The Beautiful spoilers for Monday, March 27 reveal that Sheila Carter (Kimberlin Brown) asks Bill Spencer (Don Diamont) if he is playing her. Ridge Forrester (Thorsten Kaye) is afraid that Sheila is onto Bill. Chen (Brian Yang) puts everyone on standby. Katie Logan (Heather Tom) and Brooke Logan (Katherine Kelly Lang) discuss Bill and Sheila. John "Finn" Finnegan (Tanner Novlan) stops by Forrester Creations to visit Steffy Forrester (Jacqueline MacInnes Wood).
The Bold And The Beautiful Spoilers – Sheila Carter Finally Confesses
Sheila tells Bill this would only happen in her wildest dreams would Bill propose. Sheila says this is why she is questioning it. Bill asks Sheila if he is moving too fast. Bill tells Sheila he is scared and knows she is scared too. Bill says it is scary being vulnerable. Sheila doesn't like it when people betray her. Bill doesn't like it either. Bill says he and Sheila are alike. Sheila asks if she is afraid and guarded or just smart.
Sheila asks Bill if he is up to no good. Bill didn't see that coming. Bill has alienated everyone for Sheila. Bill thought he finally found the person who would accept him. Bill thought he had finally found true love. Bill wants to make Sheila his wife and give her the future she deserves. Sheila finally says yes. Ridge and Chen are thrilled when Sheila accepts. Bill couldn't let Sheila get away from him.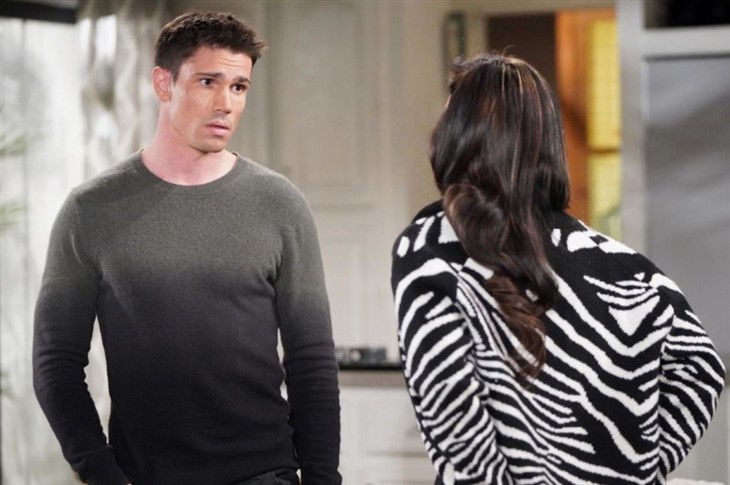 Bill needs them to have an open line of communication. Bill needs to hear everything that Sheila has done. Bill has told Sheila everything about him. Bill knows Sheila is haunted and she needs to unburden herself. Sheila tells Bill about a doctor that went off the balcony. Sheila said he grabbed her and he fell off the side of the building. Bill says he is sorry she had to go through that. Bill knows there is more.
Bill says it's ok, Sheila can tell Bill the truth. Sheila found out that another man betrayed her. Sheila sent bees into one guy's room and she refused to help her after he was stung. Sheila says she stood there and watched him die. Bill asked Sheila if she intentionally killed Lance Day. Sheila says Bill, I'm a murderer. Bill says that's so odd and calls her a naughty girl. Sheila repeats I am a murderer.
B&B Spoilers – Katie Logan Worries About Bill Spencer
The Bold And The Beautiful spoilers indicate Katie and Brooke talk about how Bill has cut them off. Katie doesn't see how Bill could cut them and his kids off. Katie says Bill is lost to them. Katie hopes the real Bill is in there somewhere ad comes back to them. Is Katie right about Bill finally returning to himself? How will Katie feel when she learns Bill never left?
The Bold And The Beautiful Spoilers – John Finnegan Comforts Steffy Forrester
Finn and Steffy make out in her office. Finn wonders if Bill is buying what Sheila is selling. Steffy wonders why Bill is alienating everyone. Steffy wonders why Ridge isn't there. Steffy wonders if Ridge moved and didn't tell them. Finn wants to enjoy Steffy while he can. Finn says eternity isn't enough. Steffy wonders if her dad will ever come home.
Be sure to catch up on everything happening with B&B right now. Come back here often for The Bold And The Beautiful spoilers, news, and updates.