The Bold And The Beautiful Spoilers: Eric And Ridge Continue To Battle, Runway Showdown Ahead
The Bold and The Beautfiul (B&B) spoilers and updates tease Eric and Ridge Forrester (John McCook, Thorsten Kaye) will continue to battle in a power struggle over Forrester Creations.
Eric suggests they battle on the runway, and let the clients decide who runs the show in a fashion showdown!
The Bold And The Beautiful Spoilers – Navigating Uncharted Waters
Eric, even though he has no problems playing piano, seems to have problems holding a pencil and drawing.
So not only has RJ Forrester (Joshua Hoffman) been helping him design the old fashioned way, he's been trying to bring Grandpa into the new century teaching him computer aided design.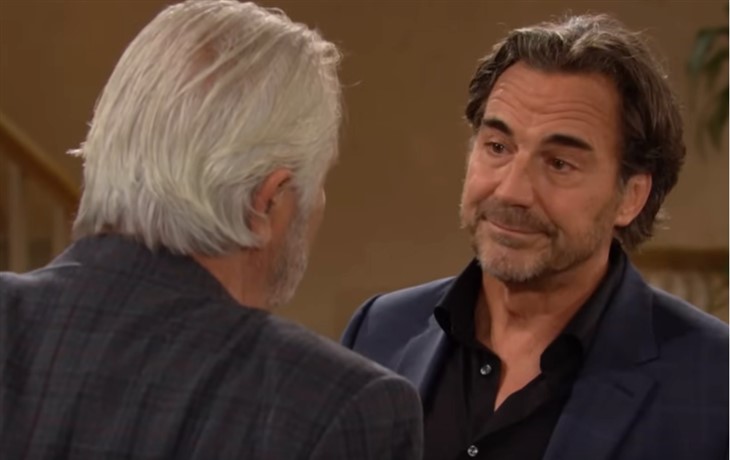 The situation between Ridge and Eric continues to increase tension, and the two of them being in a power struggle uncharted waters.
Eric is extremely determined to create at least one last legacy line, which embodies the elegance that his creations have always been famous for.
So Eric suggests he and Ridge battle it out on the runway, as a fashion showdown, and they'll let their buyers decide; they always get orders after a showing.
B & B Spoilers – Good Sportsmanship On Paper, Off Paper, Not So Much
The fashion showdown between Eric and Ridge might look like good sportsmanship and fun on paper, but off paper, not so much.
Eric in particular is not thinking of it as a fun thing, because this is the only way he can prove to Ridge he's still got what it takes!
At the crux of the matter, Eric is fighting not to be put out to pasture or be forced into stepping down-by the younger people in the company.
He feels that is exactly what is happening and he can't help but react, and then there's the trembling in his hand he's worried about, calling it "arthritis" but fearing worse.
READ THIS: Find out what happens next on The Bold and The Beautiful.
The Bold And The Beautiful Spoilers – Eric Forrester Plans To Pull Out All The Stops
Eric's determined to be the winner of this competition and plans to pull out all the stops; however, his working with RJ leads to more family drama.
It rankles Ridge that he couldn't get his son to be a designer like him and yet here he's helping Grandpa do exactly that, even though he doesn't say so.
Unfortunately, it won't just be the buyers who make the big decision, his family members are taking sides as well.
However, Eric does enjoy working with his grandson so closely and learning new things about the future of dress design via computer.
His hand doesn't seem to bother him when he plays piano, so maybe it won't once he learns computer design-after all, they're both keyboards!
Be sure to catch up on everything happening with B & B right now. Come back here often for The Bold and The Beautiful spoilers, news, and updates.
For more about what's happening on your favorite soaps and more ways to connect with us, join the conversation on our Facebook Page, check out our Twitter feed, look for an update on our Instagram, follow us on Threads , Always stay up-to-date with us on Google News, or drop us an e-mail HERE! See you there!
53