The Bold And The Beautiful Spoilers: Finn Arrested Over Deadly Sheila Move – Li Pushes Son To Get Rid Of Birth Mom?
The Bold and the Beautiful (B&B) spoilers tease that John 'Finn' Finnegan (Tanner Novlan) will work hard to defeat Sheila Carter (Kimberlin Brown) during fall sweeps.
He knows that until he eliminates the Sheila threat, Steffy Forrester (Jacqueline MacInnes Wood) won't come home.
Steffy told Finn that she loved him but could not let Sheila terrorize her and put their children's lives in danger.
She believes that Sheila will always pose a threat to her family. She won't let go of Finn because, in her twisted mind, she thinks they are a family.
While Steffy understands Sheila's love for her son, the nine-toe bandit is a lunatic and dangerous. She sees Steffy as a threat and would not think twice about attacking her.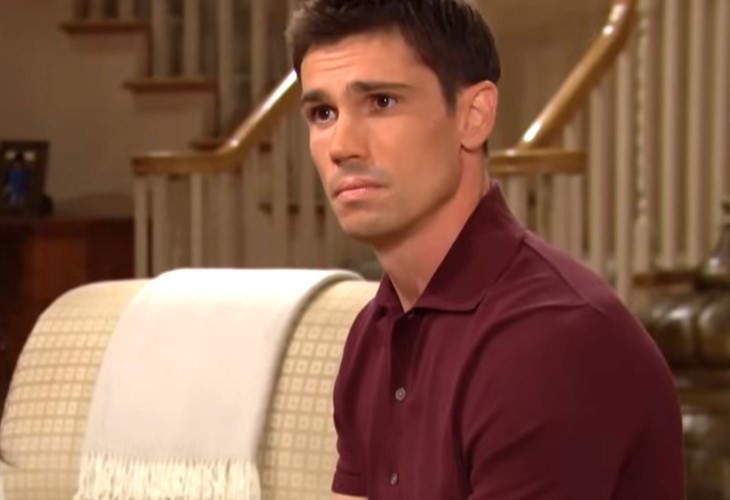 The Bold And The Beautiful Spoilers – John Finnegan Refuses To Lose His Family Over Sheila Carter
Steffy told Finn she had to leave the country to escape Sheila. She hoped to come home eventually, but not until Sheila leaves Finn's life.
She hates that she sees Sheila when she looks into his eyes. Even so, Steffy believes in their love and hopes that he can survive this obstacle.
Finn hates that Steffy felt she had to leave. He understands her reasons. After all, Sheila showed up unannounced, demanding to talk to him.
Sheila made it look like Finn had been talking to his birth mom, which is not the case.
After talking to Li Finnegan (Naomi Matsuda) about the situation, his mother urged him to take drastic action to eliminate Sheila to get his family back.
Li believes Finn must plan his method of attack well, as Sheila has a habit of slipping through the cracks and not facing any consequences for her actions.
READ THIS: Find out what happens next on The Bold and The Beautiful.
B&B Spoilers – Will John Finnegan Go Too Far And Face Legal Charges For Attacking Sheila?
Sheila will continue to try to connect with Finn while Steffy is away in Europe. She will assume with Steffy away, Finn will be willing to give her another chance.
The Bold and the Beautiful spoilers say that Sheila will push Finn too far, and he could snap.
The Bold and the Beautiful spoilers say that Finn will take drastic measures to eliminate Sheila and could face legal charges for his actions.
B&B fans, do you think Finn will snap on Sheila? Keep watching Bold and the Beautiful, airing weekdays on CBS and streaming on Paramount Plus.
This site is a leading source for everything linked to The Bold and the Beautiful. Check back regularly for Bold and the Beautiful spoilers and news!
For more about what's happening on your favorite soaps and more ways to connect with us, join the conversation on our Facebook Page, check out our Twitter feed, look for an update on our Instagram, follow us on Threads , Always stay up-to-date with us on Google News, or drop us an e-mail HERE! See you there!