The Bold And The Beautiful Spoilers Hope's Change Of Heart Stuns Thomas, Deacon And Sheila Panic
The Bold and the Beautiful (B&B) spoilers for the week of August 21 tease that Hope Logan (Annika Noelle) will stun Thomas Forrester (Matthew Atkinson).
Steffy Forrester (Jacqueline MacInnes) learns Liam Spencer (Scott Clifton) called off his divorce with Hope. And, Deacon Sharpe (Sean Kanan) and Sheila Carter (Kimberlin Brown) when Hope shows up unexpectedly at his apartment.
The Bold And The Beautiful Spoilers – Hope Logan Changes Her Mind
At the end of Friday's (August 18) episode, Liam reminded Hope of their history and why a romance with Thomas is a terrible idea.
He reminded Hope that Thomas was the reason they believed their daughter was dead for so many months.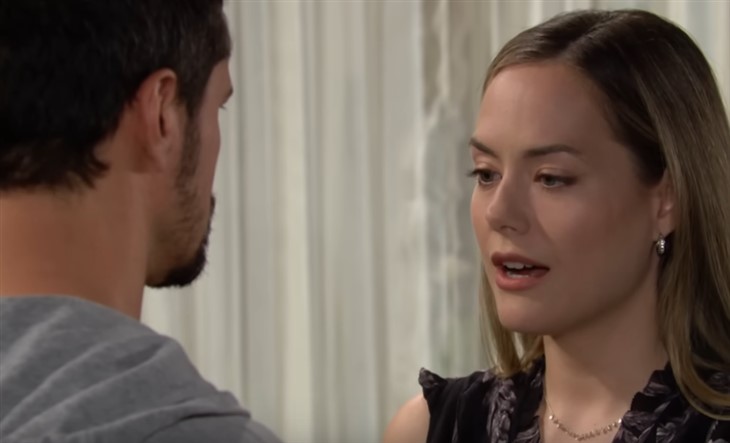 He also pointed out that Thomas tried to kidnap her and had to attack Thomas to save her. Hope begins to realize that she loves Liam and may not be ready to close the door to their marriage.
Hope will visit Thomas and tell him she's not ready to be with him. Perhaps, she will tell him she decided to reunite with Liam. However, she handles it, we can assume that Lope will reunite – shocking both Thomas and Steffy.
B&B Spoilers – Steffy Forrester Learns Shocking News
After Liam has spent a solid month whining about Thomas and Hope, he stuns Steffy by announcing he called off his divorce and plans to reunite with Hope.
While Steffy is still married to John 'Finn' Finnegan (Tanner Novlan) and not ready to move on, it will stun her as Liam has kissed her three times and professed his undying love for her.
We can expect Steffy to be supportive of Liam's decision. She may ask if he's ready to put Thomas's kiss with Hope behind him. Let's hope Liam stops whining about a kiss when he's been trying to hop into Steffy's bed since she left Finn nearly two weeks ago.
The Bold And The Beautiful Spoilers – Deacon Sharpe's Shock
Deacon and Sheila will get a shock when someone knocks on his apartment door. He will freak out because he isn't ready for anyone to know about his romantic relationship with Sheila.
B&B spoilers say Hope dropped by her dad's house to give him the good news about Liam. We can expect Deacon to force Sheila to hide to prevent their relationship from being discovered.
B&B fans, are you surprised Liam and Hope are calling off their divorce? Keep watching Bold and the Beautiful, airing weekdays on CBS and streaming on Paramount Plus.
This site is a leading source for everything linked to The Bold and the Beautiful. Check back regularly for Bold and the Beautiful spoilers and news!