B&B Spoilers: Steffy Kisses Finn, Kicks Out Trifling Liam
The Bold and the Beautiful (B&B) spoilers hint that Steffy Forrester (Jacqueline MacInnes Wood) kisses her husband Dr. John "Finn" Finnegan (Tanner Novlan) and kicks out Liam Spencer (Scott Clifton).
What's going on with her love life? Who will she choose? Keep on reading to learn more.
The Bold And The Beautiful Spoilers – Steffy Forrester Kisses John "Finn" Finnegan
The Bold and the Beautiful spoilers suggest that Steffy kissed Finn. He returned to Eric Forrester's (John McCook) mansion to get his wife back.
Finn begged Steffy to return home and bring their family back together. At one point, the couple locked lips.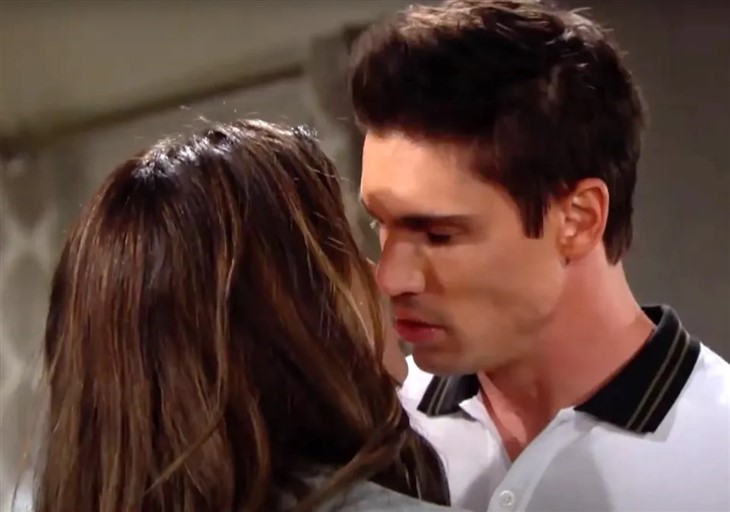 B&B fans could see the apparent chemistry between them. Steffy stopped herself. She told him that she can't go back to the cliff house right now.
Steffy doesn't feel the time is right since she feels that her family's life is in danger because of Finn's biological mother Sheila Carter (Kimberlin Brown).
She kicked Finn out and left him brokenhearted. He returned to the cliff house all alone once again. He fears that he's on the brink of losing his family.
B&B fans took to the SoapCentral.com Message Boards to react to their kiss. One user noted that it was passionate and gave off super couple vibes.
Another fan argued that the kiss looked "forced and awkward." The Bold and the Beautiful fans are split on the couple known as Sinn.
Most believe that they have chemistry while others think they're boring. You can't satisfy all soap fans, especially when it comes to the pairings on the show.
B&B Spoilers – Steffy Forrester Kicks Out Liam Spencer
In a surprising twist, The Bold and the Beautiful spoilers also suggest that Steffy kicked Liam out. He also returned to the mansion later that night.
This time, Steffy got dressed out of her clothes and wore a sexy black nightie with a robe. Liam couldn't keep his eyes off her.
He confessed that he was still in love with her. At one point, Liam kisses Steffy on her cheek. There would've been a time when Steffy would've loved hearing Liam tell her he was still in love with her.
However, she felt differently and told him that he should leave.
What are your thoughts on what happened? Are you surprised that Steffy kicked out Liam? Who do you think will Steffy choose? Sound off below in the comment section.
As always, check back for more B&B spoilers, news, and updates.