The Bold And The Beautiful Spoilers: Hope's Choice – Fashion Line Or Liam?
The Bold and the Beautiful spoilers document that Hope Spencer (Annika Noelle) had to share a work update with her husband. The issue they have repeatedly experienced is Thomas Forrester (Matthew Atkinson).
The Bold and the Beautiful spoilers show Liam Spencer (Scott Clifton) begged his wife not to let Thomas back into her life by opening the work door. She repeated the Douglas Forrester (Henry Joseph Samiri) card that Thomas played, saying their son would benefit by seeing his parents get along.
Clifton's character correctly gleaned that Thomas planted that idea in Hope's mind, with her lack of response and tears confirming his justified suspicions.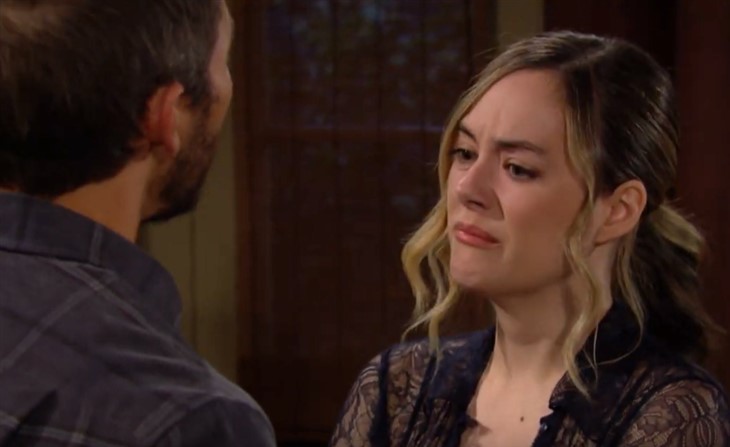 The Bold And The Beautiful Spoilers – Sheila Carter On One Hand, Thomas Forrester On Another
Bill Spencer (Don Diamont) has a Sheila Carter (Kimberlin Brown) problem, no matter his game plan. She is extremely dangerous.
Liam was glad his dad admitted he is not in love with a woman Clifton's character considers to be a monster. Liam does not put Thomas in Sheila's category. But he does know that Hope's tormentor is destructive.
The audience sees Liam can not focus on one villain because two are threats to his family in this version of Los Angeles, California.
B&B Spoilers – Thomas Forrester Saying All The Right Things Again
Thomas is meeting with a therapist his mother approves of, which is a good first step. But make no mistake, sessions with Doctor Joshua Howard (Zae Jordan) should give no one cause for relief.
As was true in the past, Thomas does believe what he says. TTaylor Hayes' (Krista Allen) son wants to steady himself, be a better father to Douglas, and a trusted member of the Forrester clan.
But Thomas has never been able to gain mental stability and maintain it. Hopefully, the work he is doing with Dr. Howard represents a sincere effort toward permanent stability, rather than a crutch he uses until the next spin-out.
The Bold And The Beautiful Spoilers – Will Hope Spencer Create A Compromise?
Steffy Forrester Finnegan (Jacqueline MacInnes Wood) does not have two options. She can do more than restore her brother as Hope for the Future's lead designer or shut down the fashion line.
Liam, Hope, and the audience know that there is a world full of talented fashion designers. All Steffy needs to do is tap into her contacts and hire an experienced designer.
Maybe Thomas could contribute to the line while working remotely from home? Hope needs to push that compromise solution, or something similar, because if she does not, her marriage and potentially HFTF could be in serious jeopardy on B&B.
This site is a leading source for everything linked to The Bold and the Beautiful. Check back regularly for B&B spoilers and news!