General Hospital Spoilers: Willow Tells Chase To Run Back To Brook Lynn — And He Listens
General Hospital spoilers hint Willow Tait (Katelyn MacMullen) hasn't always done right by Harrison Chase (Josh Swickard), but her heart has always been in the right place. Chase knows that, and he won't hesitate to listen to Willow's advice as she prepares to possibly leave him and everyone else she loves behind. However, Willow's conversation with Chase won't go at all how he expected, but it might be exactly what he needed to hear at the same time.
General Hospital Spoilers — Willow Tait Knows Harrison Chase Well
General Hospital spoilers show Willow and Chase have really been through the wringer together. Their initial relationship could have been destined for something great, but Chase botched that when he and Sasha Gilmore Corbin (Sofia Mattson) decided to pretend they cheated on their then-partners — Willow and Michael Corinthos (Chad Duell) — in favor of pushing them together for the sake of being award custody of Wiley Corinthos (Viron Weaver).
The plan worked a little too well when Michael and Willow really fell for each other, and the rest would have been history had Willow not later coupled back up with Chase in an attempt to make it work while he was thought to be dying. Willow married Chase out of pity thinking his days were numbered. Now that the shoe is on the other foot, Chase will give her every opportunity to clear the air.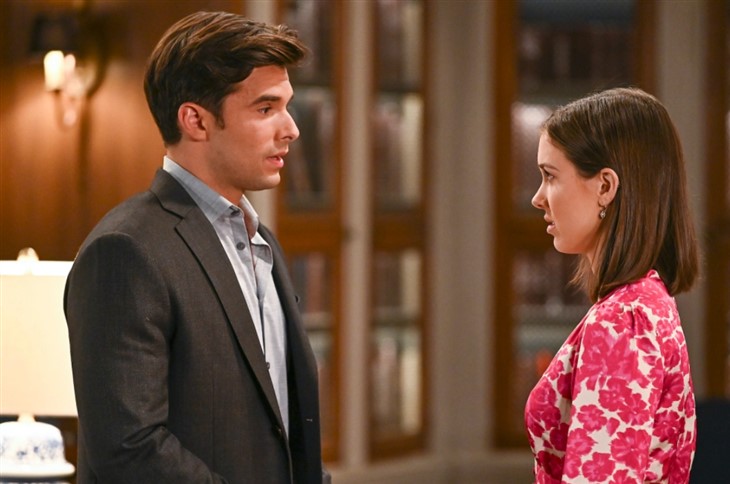 GH Spoilers – Say Harrison Chase Takes Willow Tait's Advice
Willow doesn't want to talk about their past, who hurt who, or how sorry she is for the mistakes she made cheating on him, or marrying him for the wrong reasons in the first place. She never wanted to hurt Chase, and he believes that with all of his heart. Speaking of Chase's heart, Willow will also take note that he's hurting, and she's certain it has something to do with his stubborn ego holding out on forgiving Brook Lynn Quartermaine (Amanda Setton) for meddling with his career. Willow might remind Chase that he doesn't have to trust Brook Lynn to love her enough to try.
General Hospital Spoilers — Wedding Bells Are Ringing
Chase is going to take Willow's advice to not wait another day to tell Brook Lynn how he feels. Willow knows something about how one's perspective on life changes when they're faced with the reality of dying soon. Wanting Chase to live every day to its fullest, she will tell him to run — not walk — to Brook Lynn's door and confess his love for her. Rumor has it Chase and Brook Lynn could end up married before Michael and Willow even do. Stay tuned for more GH news and spoilers so you don't miss it!