The Bold And The Beautiful Spoilers: Liam Struggles With His Decision, Should He Have Stowed Away On The Forrester Jet?
The Bold and The Beautiful spoilers and rumors tease Liam Spencer (Scott Clifton) will struggle with a decision. Might this decision be wondering if he really should have stowed away on the Forrester jet on the trip to Italy?
The Bold And The Beautiful Spoilers – Liam Spencer Shown In Early Photos
Scott Clifton is definitely shown in location shots when the Italian trip, which is for a Forrester Creations "Hope For The Future" showing was filmed. This means Liam will be on the trip too, even though he has nothing to do with Hope Spencer's (Annika Noelle) line or the showing itself.
Liam seems a little out of place when the others on the trip are all Forrester Creations employees, including Hope, of course, and her mother.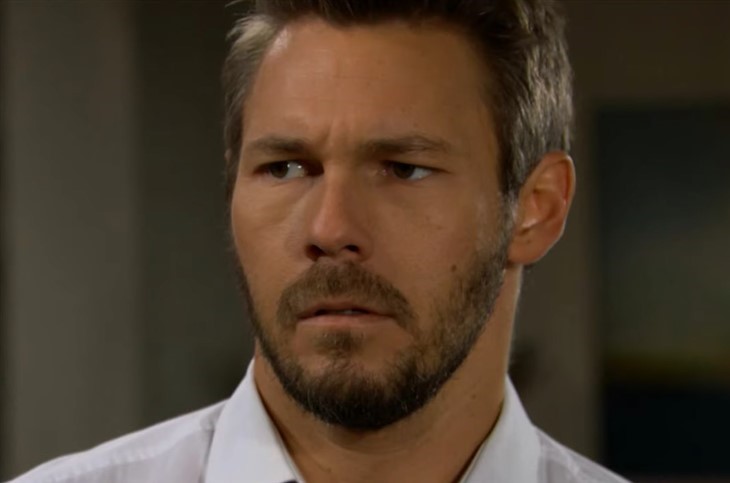 Brooke Logan, (Katherine Kelly Lang) Ridge Forrester, (Thorsten Kaye) Thomas Forrester, (Matthew Atkinson) Steffy Forrester Finnegan (Jacqueline MacInnes Wood) and Carter Walton (Lawrence Saint-Victor) are on the trip. How and why did Liam get there, after arguing that Hope shouldn't go on the trip with Thomas, not believing it's just business?
B & B Spoilers – Desperate, Much?
Liam is not only desperate to stop Hope and Thomas being together regardless of how many others are there, including Steffy, keeping an eagle eye, he's determined to be there too. He probably could have talked his father, Bill Spencer (Don Diamont) into letting him use the Spencer jet, but Liam doesn't know the flight itinerary or path.
It's probably no big secret, Katie Logan (Heather Tom) probably knows, but Liam has to control everything and everyone, not trusting anyone else to keep Hope and Thomas from each other.
Steffy tried to calm down a visibly stressed out Liam prior to the trip, but to no avail-Liam has to take control.
The Bold And The Beautiful Spoilers – Cargo Hold, Comfortable Not!
Liam is so desperate to control the Italian trip that he stows away in the cargo hold for the trip, sneaking in between racks of clothes. He starts to regret it when they hit some turbulence and realizes it's somewhat pressurized but not as cushioned as the seating area.
Liam's afraid he'll lose his lunch all over expensive gowns, the racks secured to the sides of the plane by hooks-how do people's pets handle this?
Liam figured it would be safe, since he knows that unless an animal is a legitimate therapy animal they ride in the cargo hold of the plane. He's regretting his desperate act more with every wave of nausea, now desperate for some Dramamine much more than controlling Thomas and Hope!
Be sure to catch up on everything happening with B & B right now. Come back here often for The Bold and The Beautiful spoilers, news, and updates.