The Bold and the Beautiful Spoilers Monday, February 25: Hope's Tragic Breakdown, Liam and Steffy Stunned – Sally and Wyatt Celebrate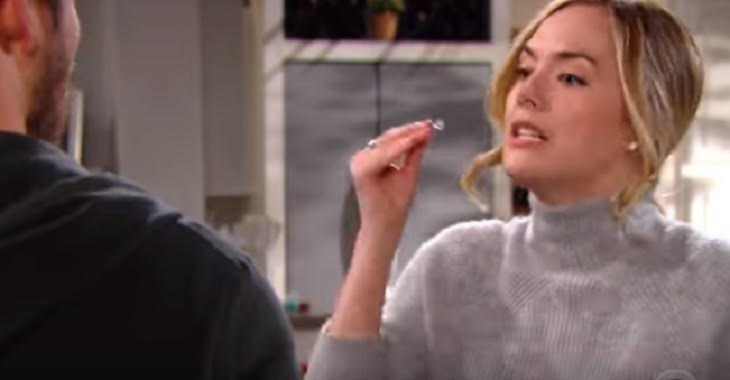 "The Bold and the Beautiful" spoilers for Monday, February 25, tease that Hope Spencer's (Annika Noelle) grief will push her to her breaking point. She can't take the guilt of keeping Liam Spencer (Scorr Clifton) from the family he desires. Despite Liam's attempts to soothe Hope, she'll insist that the girls are all that matter. Hope will want Liam to be a full-time father to those precious children.
B&B fans can expect Hope to make a heartfelt speech on Monday. She'll tell Liam and Steffy Forrester (Jacqueline MacInnes Wood) that she can't stand in their way. Hope won't want to be the reason Kelly Spencer (Zoe Pennington and Chloe Teperman) and "Phoebe Forrester" (Isabella de Armas and Redford Prindiville) don't have their mom and dad under one roof.
Bold And The Beautiful Spoilers – Steffy And Liam Shocked
"The Bold and the Beautiful" spoilers say Steffy and Liam will be taken aback by Hope's despair. She'll be more emotional than ever as she keeps pushing for a "Steam" reunion. Steffy would undoubtedly like that deep down, but she'll only be concerned for Hope in this moment. Like Liam, she'll fear that Hope is really starting to lose it.
Their fears will grow stronger once Hope eventually takes her ring off and hands it back to Liam. It looks like that'll happen either at the end of Monday's episode or on Tuesday. Either way, it's sure to be a shocker for Liam. He'll plead with Hope not to take it this far, but her grief will remain in control of her actions.
Steffy and Liam share their mutual concern that Hope has become obsessed with Phoebe. WATCH FULL EPISODE: https://t.co/L4tzllshTJ #BoldandBeautiful pic.twitter.com/c3wqS5QSbL

— Bold & The Beautiful (@BandB_CBS) February 22, 2019
Other "Bold and the Beautiful" spoilers state that Wyatt Spencer (Darin Brooks) and Sally Spectra (Courtney Hope) will celebrate. Thanks to the deal Wyatt secured with Bill Spencer (Don Diamont), they're all set to revive Spectra Fashions. Sally will be over the moon and beyond grateful for Wyatt's efforts. She'll truly feel his love and hope that he feels her love, too.
Bold And The Beautiful Spoilers – Sally Suspicious of Bill
Of course, Sally will remain a bit concerned about Bill pulling a "gotcha." B&B viewers know how "Dollar Bill" operates and so does Sally! Nevertheless, Sally will let herself experience total bliss with Wyatt and just enjoy the victory. They can worry about the details later.
"The Bold and the Beautiful" spoilers say the excitement's revving up on the CBS soap. We'll give you updates as other news and rumors emerge. Stay tuned to B&B and don't forget to check CTS often for the latest "Bold and the Beautiful" spoilers, rumors, updates and news.
Want up-to-the-minute soaps news, spoilers, and gossip on your social feeds? Just hit 'Like' on our Facebook page and 'Follow' on our Twitter account.