Bold and the Beautiful Spoilers Monday, January 14: Reese's Adoption Pitch Shocks Taylor – Liam Enjoys Steffy and Kelly Family Time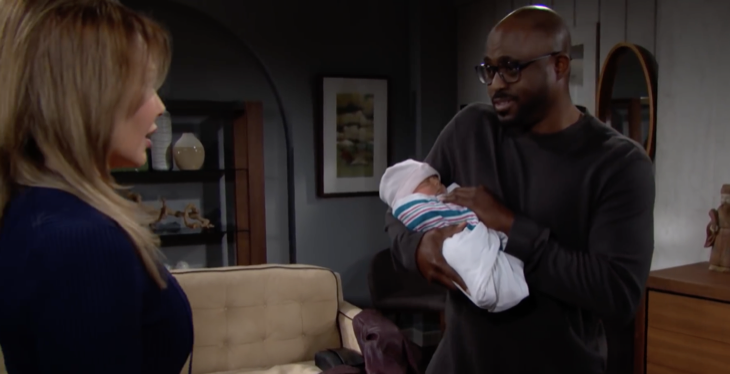 "Bold and the Beautiful" spoilers for Monday, January 14, tease that Dr. Reese Buckingham (Wayne Brady) will answer all of Dr. Taylor Hayes' (Hunter Tylo) questions. She'll have plenty of them thanks to Reese's latest baby bombshell. He just walked into the living room with a brand-new bundle of joy, so Taylor will try to make sense of all this.
Of course, just because Reese will answer Taylor's questions doesn't mean he'll answer them truthfully. B&B fans can expect deception as Reese works to get what he wants. He needs money to get the thug off his back and protect Zoe Buckingham (Kiara Barnes), so this baby could earn him the cash. Reese just has to make Taylor to pony it up for Steffy Forrester's (Jacqueline MacInnes Wood) sake.
Reese will want Taylor to believe this baby needs a loving parent. Naturally, he'll suggest he's giving Steffy first dibs. Since Steffy longs to give Kelly Spencer (Zoe Pennington) a sister, Reese will insist this could be her. He'll know a lady named Florence aka "Flo" (Katrina Bowden) who can help them out with all the details.
Reese tells Taylor he wants to show her how much he cares about her. WATCH FULL EPISODE: https://t.co/862bYNFX3t #BoldandBeautiful pic.twitter.com/k53F9QxsZ1

— Bold & The Beautiful (@BandB_CBS) January 11, 2019
However, Flo will be in on Reese's sneaky plan. She'll have adoption experience, but it seems she's only dealt in illegal ones. Flo actually works at a casino in Las Vegas, so everything clearly isn't on the up and up. Unfortunately, Taylor trusts the esteemed Dr. Buckingham and will quickly fall for his money trap. Little does she know she'll help put Hope Spencer's (Annika Noelle) baby in Steffy's hands!
While Taylor mulls over Reese's pitch, Liam Spencer (Scott Clifton) will hang out with Steffy and Kelly. We can't forget that he's hurting, too. "The Bold and the Beautiful" spoilers say Liam will try to lift his spirits with some family bonding. Just being around Steffy and their daughter will help him cope with the loss of Beth.
It looks like a major mess is headed for Steffy, Hope and Liam. This baby plot is sure to bring drama for months to come. We'll give you updates as other "Bold and the Beautiful" news and rumors emerge. Stick with B&B and don't forget to check CTS often for the latest "Bold and the Beautiful" spoilers, rumors, updates and news.
Want up-to-the-minute soaps news, spoilers, and gossip on your social feeds? Just hit 'Like' on our Facebook page and 'Follow' on our Twitter account.