The Bold And The Beautiful Spoilers Monday, July 31: Sheila Does The Unthinkable, Steffy Life Crashes
The Bold and the Beautiful (B&B) spoilers for Monday, July 31, 2023, reveal that life takes an ironic turn when the villain becomes the hero. Defying all odds, evil Sheila Carter (Kimberlin Brown) was let loose from jail last week. Despite admitting to murder, along with assorted crimes and misdemeanors spanning decades, the judge let her go on a technicality. No one in the chambers could believe it and immediately beefed up security to keep the psycho from harming them. And then something amazing happens.
The Bold And The Beautiful Spoilers – Sheila Carter SavesThe Day
On Monday Finn Finnegan (Tanner Novlan) is enjoying a day at the beach with Kelly (Remington Evans) when he turns his back to take a call. Fans know that the little girl had expressed bad premonitions about her daddy, but she didn't indicate which one—Liam Spencer (Scott Clifton) or Finn.
As soon as that happened, fans began speculating that something bad was going to happen and it looks like they were right.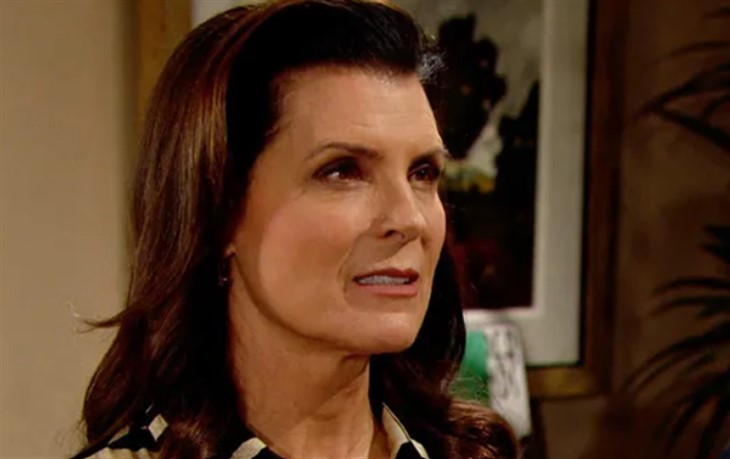 The Bold And The Beautiful Spoilers – Bad Vibes
Steffy Forrester Finnegan (Jacqueline MacInnes Wood) is talking to Liam Spencer (Scott Clifton) at the beach house as Finn and Kelly play in the sand. Liam taped Finn hugging it out with Sheila immediately after her release. Sheila shot Finn and Steffy among other things, so she is Public Enemy Number One to the couple.
Except that Steffy is confused as to why her husband is clutching his bio mom for dear life and didn't mention it to her. Things are about to get a whole lot worse for Steffy.
The Bold And The Beautiful Spoilers – Steffy Forrester's Life Turns
Steffy is waiting to speak to Finn about what the hug was all about before she becomes hysterical, as Liam is.
But Liam is egging her on relentlessly to go ballistic on Finn based on his video, and reminds her how HE is always there to protect her family, unlike Finn.
Steffy is worried but she could have never predicted what happens next. On a stupendous Friday Cliffhanger, Kelly ran into the waves when Finn wasn't watching but Sheila was! She was spying on the two under a tent and ran after the girl when she saw her disappear from view.
On Monday worlds collide when Sheila does the unthinkable. And life will never be the same again on the LA-based sudser.
Be sure to catch up on everything happening with B&B right now. Come back here often for The Bold and the Beautiful spoilers, news, and updates.
For more about what's happening on your favorite soaps and more ways to connect with us, join the conversation on our YouTube Page or our Facebook Page, check out our Twitter feed, look for an update on our Instagram, follow us on Threads , Always stay up-to-date with us on Google News, or drop us an e-mail HERE! See you there!