Days Of Our Lives Spoilers Monday, July 31: Weddings Continue, Kristen's Court Summons, Sloan's Next Move
Days of Our Lives spoilers for Monday, July 31 reveal that the double wedding came to a halt. However, Monday's episode will feature both couples tying the knot. Plus, Kristen DiMera (Stacy Haiduk) gets a court summons. Elsewhere, Sloan Petersen (Jessica Serfaty) tampers with Nicole Walker's (Arianne Zucker) test results. When will Nicole, EJ DiMera (Dan Feuerriegel) and Eric Brady (Greg Vaughan) discover the truth?
Days Of Our Lives Spoilers – Halted Weddings Continue
DOOL spoilers for Monday, July 31 reveal that the double wedding was halted. However, expect it to continue with both couples completing their weddings. That is a rare occurrence in Salem, especially with double weddings.
However, what does that mean for Gwen Rizczech (Emily O'Brien), Dimitri von Leushchner (Peter Porte) and Leo Stark (Greg Rikaart). Well, Dimitri gets panicky about Leo keeping their secret. Meanwhile, Leo is considering ruining Gwen and Dimitri's wedding.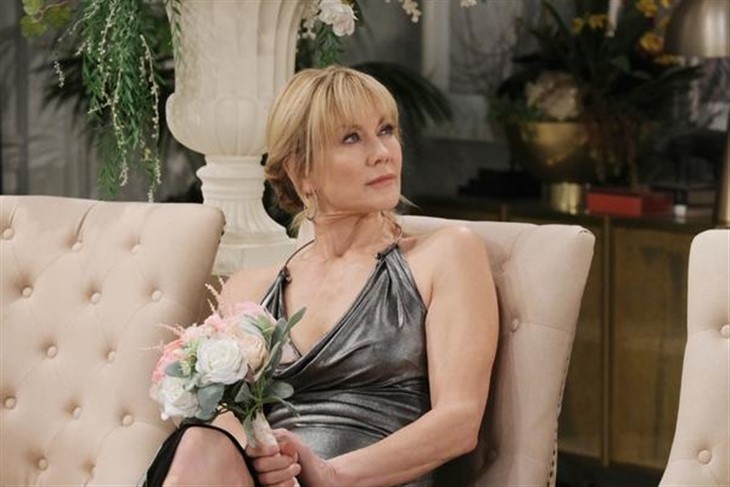 In the end, expect Dimitri and Gwen to complete their ceremony. It is also confirmed that the same will happen with Stefan DiMera (Brandon Barash) and Gabi Hernandez (Camila Banus).
DOOL Spoilers – Kristen DiMera Summoned
On Monday, July 31, fans can expect Kristen to get summoned to court. This will be a big moment for Kristen as it's about the custody hearing. Kristen and Brady Black (Eric Martsolf) are in a nasty custody dispute over Rachel Black (Finley Rose Slater).
However, the outcome of the judge's decision will emit shockwaves throughout Salem. So, it sounds like Kristen might get custody. Considering Rachel saw Brady point a gun at Kristen, that would make sense. At the same time, Kristen is someone whose parental rights should have been terminated a long time ago! Kristen pushed Brady to his breaking point and unfortunately, Rachel will probably see that image in her mind forever.
Days Of Our Lives Spoilers – Sloan Petersen's Next Move
Days of Our Lives spoilers for Monday, July 31 reveal that Sloan will make her next move. Sloan had a nightmare about Eric finding out the truth. Sloan will make another devious move, which is to tamper with Nicole's test results. Sloan knows that Eric is Nicole's real baby daddy. However, Sloan isn't going to allow that news to get out. So, Sloan makes sure that EJ looks like the father.
DOOL Spoilers – Monday, July 31
On Monday, July 31, fans can expect Eric to continue spreading his good news. Eric will tell everyone that he is expecting a baby with Sloan. While Eric and his loved ones celebrate, Nicole could walk by and see it. Even though Nicole will be happy for Eric, it might make her secretly wish that the test results were different.
Fans can also expect Rafe Hernandez (Galen Gering) and Jada Hunter's (Elia Cantu) connection to deepen.
Be sure to catch up on everything happening with DOOL right now. Come back often for Days of Our Lives spoilers, news, and updates.
For more about what's happening on your favorite soaps and more ways to connect with us, join the conversation on our YouTube Page or our Facebook Page, check out our Twitter feed, look for an update on our Instagram, follow us on Threads , Always stay up-to-date with us on Google News, or drop us an e-mail HERE! See you there!