The Bold And The Beautiful Spoilers Monday, March 6: Forbidden Lovers Give Into Passion
The Bold and the Beautiful spoilers for Monday, March 6 reveal that forbidden lovers will give into their passion. Of course, this is probably referencing Sheila Carter (Kimberlin Brown) and Deacon Sharpe (Sean Kanan).
If Deacon and Sheila get caught together, there will be catastrophic consequences for both of the characters. Keep reading to find out what to expect in the next episode of B&B.
The Bold And The Beautiful Spoilers – Bill Spencer's Romance
B&B spoilers for Monday, March 6 reveal that Bill Spencer (Don Diamont) will still be romantically entangled with Sheila. Bill's loved ones don't understand the romance or decision to help Sheila avoid going to prison for her crimes. Despite multiple pleas from several characters, Bill remains in a relationship with Sheila.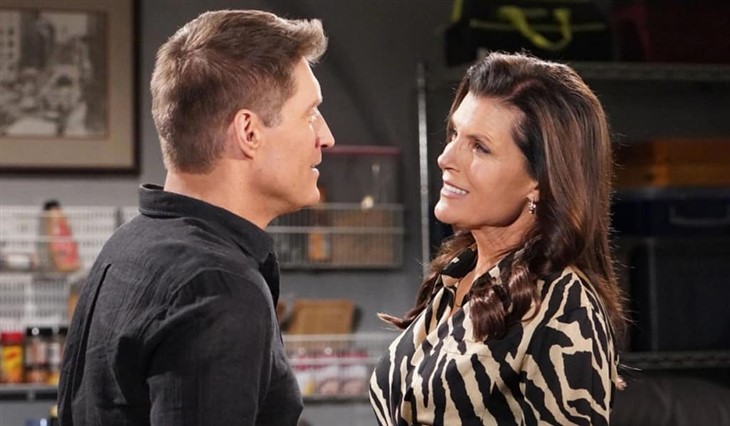 Bill also continues to stand firm on blackmailing Steffy Forrester Finnegan (Jacqueline MacInnes Wood) over Taylor Hayes (Krista Allen) shooting.
B&B Spoilers – Liam Spencer's Strategy
Recently, Liam Spencer (Scott Clifton) and Wyatt Spencer (Darin Brooks) tried to get Bill to explain the relationship with Sheila. However, Bill wasn't interested in explaining his love life, especially to his children.
One thing that Bill did tell Liam is that if Sheila ever betrayed him, she would pay dearly. Considering that at that very moment, Sheila was ripping Deacon's clothes off, it's just a matter of time before the truth is exposed. Now that Liam knows what will cause Bill to turn against Sheila, he will probably be on full alert.
Deacon Sharpe's Dilemma
The Bold and the Beautiful spoilers for Monday, March 6 reveal that Deacon and Sheila will give into passion. The more times that Deacon and Sheila sneak visits with each other, the more likely they are to get caught.
Plus, Liam will likely tell Hope Logan Spencer (Annika Noelle) and Brooke Logan (Katherine Kelly Lang) about Bill's confession regarding Sheila. As the more people find out about it, the more likely Deacon and Sheila are to get caught.
The Bold And The Beautiful Spoilers – Monday, March 6
Monday's episode might also feature Bill starting to question Sheila. Bill will want to know what errands Sheila had to run while he spoke with Liam. Sheila will probably make something up but if she isn't careful, Bill could realize the explanation doesn't make much sense.
Of course, Bill could continue to be blinded by Sheila. However, Liam now has a strategy. Will Liam be the one to find out about Sheila's affair with Deacon? Share your thoughts and remember to keep watching the CBS soap to find out what happens next.
Be sure to catch up on everything happening with B&B right now. Come back often for The Bold and the Beautiful spoilers, news, and updates.