The Bold And The Beautiful Spoilers Next 2 Weeks: Brooke Charmed, Ridge's Secret Past, Bill Suspicious
The Bold and the Beautiful spoilers for the next two weeks are in. From February 20 to March 3, Brooke Logan (Katherine Kelly Lang) will be charmed by someone unexpected. Brooke will also find out something surprising about Ridge Forrester's (Thorsten Kaye) past. Plus, Bill Spencer (Don Diamont) becomes suspicious of Sheila Carter (Kimberlin Brown).
The Bold And The Beautiful Spoilers -Brooke Logan's Love Life
B&B spoilers for the week of February 20 reveal that the focus will be put back on Brooke's love life. At the beginning of the week, someone unexpected will flirt with Brooke. This sounds like someone new and not a character from Brooke's past. So, could it be Paul (Hollis W. Chambers), the bartender at Il Giardino?
It is also teased that Brooke will take the first step in her life apart from Ridge. Plus, Taylor Hayes (Krista Allen) will encourage Brooke to take another chance at romance. However, Hope Logan Spencer (Annika Noelle) will interrogate Taylor about her true motives.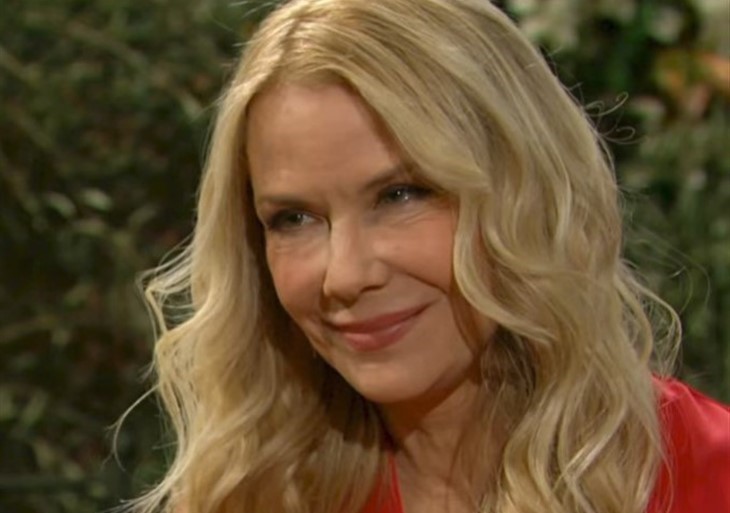 B&B Spoilers – Deacon Sharpe's Intel
Fans can also expect Brooke to learn something unexpected about Ridge. The information comes from Deacon and it's after the flirty encounter. So, maybe Brooke is still hung up on Ridge and unsure if she's ready to move on. What Brooke learns about Ridge's past could push her to move forward.
Whatever Deacon reveals, Brooke never knew about it. So, it might make Brooke feel like she doesn't know Ridge as well as she thought.
The Bold And The Beautiful Spoilers – Bill Spencer Suspicious
The Bold and the Beautiful spoilers reveal that Sheila will keep a secret from Bill. However, a preview clip that aired on "The Talk" shows Bill is suspicious. So, will Bill find out the truth about Sheila? Based on all the other information available, it sounds like Sheila quickly covers.
Fans can also expect Taylor to mediate between Steffy Forrester Finnegan (Jacqueline MacInnes Wood) and Thomas Forrester (Matthew Atkinson). Hope will continue to struggle without Douglas Forrester (Henry Joseph Samiri). So, Hope will keep leaning on Liam Spencer (Scott Clifton).
Meanwhile, Bill reaches out to John "Finn" Finnegan (Tanner Novlan). Bill will urge Finn to have a relationship with Sheila. Bill will claim that everyone makes mistakes and Sheila is a new woman.
B&B Spoilers – Next 2 Weeks
During the week of February 27, fans can expect Sheila and Deacon to fight their forbidden feelings for each other. Deacon could jeopardize Sheila's scheme, but could also risk his relationships with Brooke and Hope.
Fans will also see Bill face Wyatt Spencer (Darin Brooks) and Liam's anger over the Sheila situation. As for Hope, she will get another devastating blow. It is also teased that Steffy will have to deliver upsetting news. Maybe Douglas decides he wants to continue living with Finn and Steffy.
Which storyline are you looking forward to seeing in the next two weeks? What are your predictions for Brooke, Taylor, Hope, Liam, Thomas and Steffy? What does the future hold for Bill, Sheila, Finn, Douglas and the rest of the characters? Share your thoughts and remember to keep watching the CBS soap to find out what happens next.
Be sure to catch up on everything happening with B&B right now. Come back often for The Bold and the Beautiful spoilers, news, and updates.