The Young And The Restless Spoilers: Phyllis Loses It All, Reconsiders Jeremy Stark Alliance?
The Young and the Restless spoilers reveal that Phyllis Summers (Michelle Stafford) rejected Jeremy Stark's (James Hyde) devious proposal. However, after realizing that her relationships with her children are ruined, Phyllis might have a change of heart. Could Phyllis decide to partner up with Jeremy to get the ultimate revenge on Diane Jenkins (Susan Walters)?
The Young And The Restless Spoilers – Diane Jenkins' Bombshell
Y&R spoilers reveal that Jack and Diane have accelerated their relationship. Even though Jack didn't trust Diane when she first resurfaced, things have changed. Not only are Jack and Diane friends, but have rekindled their romance. Phyllis recently discovered that not only are Jack and Diane in a relationship but are now living together as well.
In addition to that bombshell, Phyllis is trying to mend her relationship with Summer Newman-Abbott (Allison Lanier). Meanwhile, Phyllis is suffering the consequences of interfering in Daniel Romalotti Jr's (Michael Graziadei) personal life. Daniel was furious when Phyllis secretly went to meet with Heather Stevens (Vail Bloom).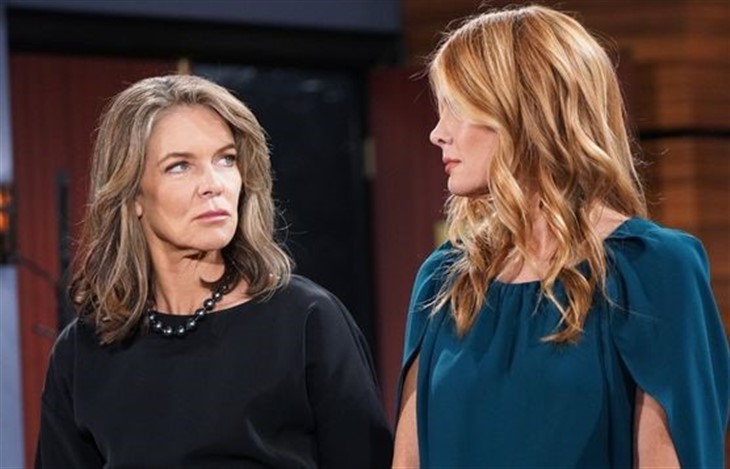 In one recent scene, Phyllis wondered why her children "hate" her. Of course, Summer tried to explain that they love her. However, Phyllis always goes too far and meddles in her grown children's affairs. Despite Summer's explanation, Phyllis seems to think that she's lost everything and everyone.
Y&R Spoilers – Jeremy Stark's Suggestion
In a recent episode, Jeremy approached Phyllis with a suggestion. Then, Jeremy and Tucker McCall (Trevor St. John) shook hands. Phyllis made it crystal clear that the best thing for her was to steer clear of Jeremy. While that was the right decision, Phyllis could have a change of heart.
The Young And The Restless Spoilers – Phyllis Summers' Fractured Family
The Young and the Restless spoilers reveal that Phyllis should just take a step back and focus on her own business. With some time and patience, Phyllis will have her relationships with Summer and Daniel back. However, Phyllis doesn't know how to be patient. It is also just like Phyllis to go to extremes to accomplish a goal. Phyllis will blame one person for her fractured family: Diane Jenkins. That is the same person that Jeremy wants revenge on as well.
Y&R Spoilers – Change Of Heart?
If Phyllis feels that she has nothing left to lose, her quest for revenge could escalate to dangerous levels. Will Phyllis reconsider partnering up with Jeremy? How will Phyllis and Jeremy get revenge on Diane? What will be the possible consequences and outcome of Phyllis' alliance with Jeremy?
What do you think is going to happen with Jeremy, Phyllis, Daniel and Summer? Will Phyllis and Jeremy punish Diane by framing her for a crime? If so, what does this mean for Jack's future? Share your thoughts and remember to keep watching the CBS soap to find out what happens next.
Be sure to catch up on everything happening with Y&R right now. Come back often for The Young and the Restless spoilers, news, and updates.