The Bold and The Beautiful Spoilers Thursday, August 17: Sally Ready To Battle – Steffy Warns Bill – Eric Feeling Family Pressure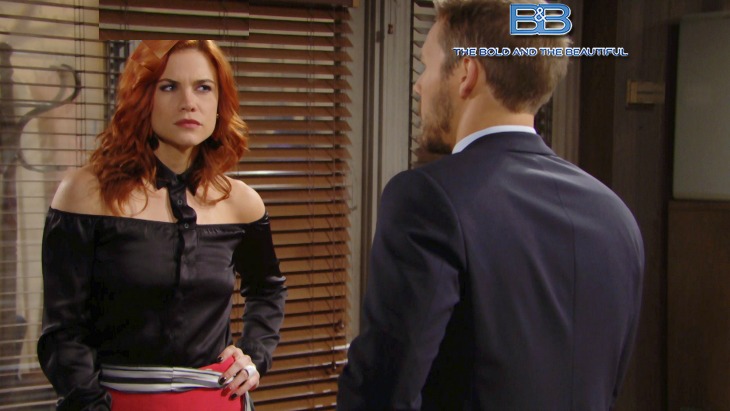 "The Bold and The Beautiful" spoilers for Thursday, August 17th, continues to bring the fire that is fueling a lot of chaos as the lies and deceit keeps heating up. Once again that fighting, fiery spirit we love in Sally Spectra (Courtney Hope) is burning hot and only going to get hotter! CJ Garrison (Mick Cain), once again attempted to pull the plug on Spectra Fashions, then selling the lot to Bill Spencer (Don Diamont).
Sally is on to Bill about trying to shut down Spectra, just wait until she knows all of Bill's deceit and lies he has been using to destroy her. CJ went back to Bill, telling him that he was giving Sally one last chance, one last fashion show to turn things around. Sally is pumped preparing for battle. "B&B" spoiler show Sally telling Liam Spencer (Scott Clifton), "Bill should seriously, pick on someone his own size!"
Related: Sheila Play Coy, Quinn Confronts Her – CJ Desperate For Money
It is hard not to get caught up in all of Sally's energy and excitement. Sally has never been more determined to show she can play with the big dogs. With Thomas Forrester (Peirson Fode') in New York, Bill's Spencer's handy work, Sally feels she can really shine if, and only if, she is given an even field. Liam listens to Sally, hearing the fire and confidence she has in herself. Knowing that it is his own dad who is the one responsible for all the sabotage. How much longer can he keep what he knows to himself?
"The Bold and The Beautiful" spoilers shows Steffy Forrester Spencer (Jacqueline Wood) warning Bill, "I think you're pushing it" Steffy continue, "Liam already feels guilty going on with the whole Caroline dying secret". Bill continues to come up against obstacles. Just how much further can Bill take things? Bill tells 'Sky', his model of the Skyscraper he plans to build, that he will succeed. However, Sheila Carter (Kimberlin Brown), could still give Bill a few lessons on crazy.
Related: The Bold And The Beautiful Comings And Goings
Sheila seems to be making herself at home in Eric (John McCook) and Quinn (Rena Sofer) Forrester house. Quinn irritated with Eric for allowing her to recuperate in their home, after being injured in a physical altercation with Quinn. Eric feeling the family's disapproval of letting Sheila remain in his home after all she has done. Eric tells Sheila that he needs to check with her doctor regarding her sleeping patterns. Is Eric concerned, or could he be calling her bluff? Do you think Sheila is sick as she portrays?
Affiliate links included below. Thanks for your support!
Catch "The Bold and The Beautiful" weekdays on CBS. Be sure to check back here at Celebrating the Soaps, your "B&B" source for news, updates, spoilers and so much more!
Save
Save