Is Kanye West Making His Wife Hide Her Face?
Kanye West might be trying to make his wife hide her face. The two were spotted twice on separate occasions. His new wife Bianca Censori hid her face on both occasions. Fans wonder if this is Kanye's doing or if it's because she's had plastic surgery. Keep on reading to learn more.
Bianca Censori Spotted in Odd Outfit
Lately, it has been Kanye West who has been making odd fashion choices lately. Earlier this month, the rapper raised eyebrows when he stepped out with Bianca.
The platinum-blonde beauty wore a white bodysuit tucked into gray opaque tights. She also wore gray ribbed socks pulled up to her knees and neutral pumps.
She clung onto Ye, who wore a black T-shirt with matching high-water pants. He stepped out in bright blue socks with no shoes. He didn't look happy during their recent sighting. What fans also noticed about Bianca's odd outfit is that she had a black T-shirt wrapped around her head and face.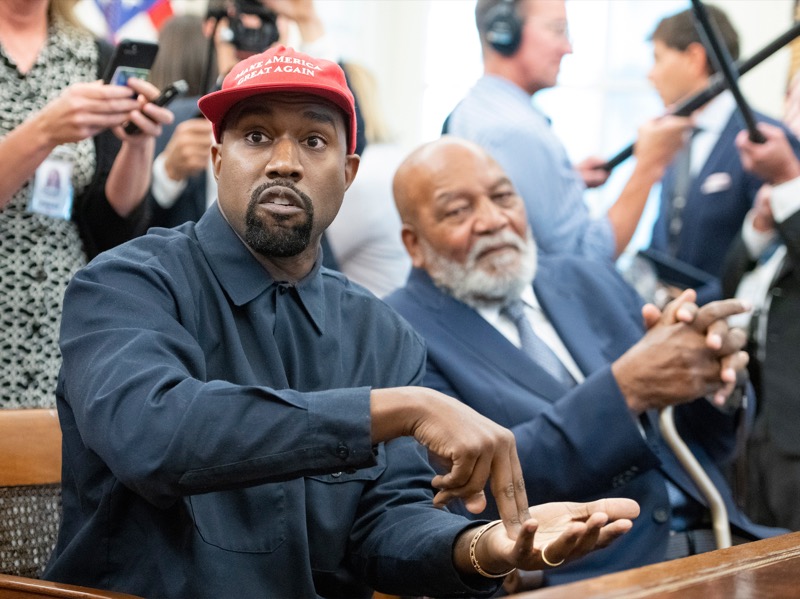 The couple went on an ice cream date in Los Angeles. Some fans took to Reddit to share their thoughts on Bianca's outfit. They wanted to know why she was suddenly hiding her face. In previous sightings, Bianca never covered up.
Other fans mocked her for wearing socks over her tights. Kanye received similar backlash for his bizarre outfits. The former Yeezy designer has worn oversized rubber boots and leggings on other occasions. Fans are wondering where they're getting their style from.
Kanye West Making New Wife Hide Her Face?
Kanye West and Bianca Censori were spotted out again. This time, Bianca covered her entire face in a white wrap. She looked like a mummy. The couple went out for another date night in Los Angeles.
Kanye surprisingly wore a normal outfit this time around. He wore a black T-shirt that read "Berlin" across the front in bold red letters. He paired the shirt with matching black pants. Meanwhile, Bianca wore an off-white suede motorcycle jacket over gray leggings and black leather knee-high boots.
Her entire face was covered in a white cotton scarf. She kept it on for the duration of the dinner. Fans have wondered if Kanye West is making his wife cover his face in public.
Some wondered if it was because Bianca went under the knife and wanted to hide her new face. Others expressed concerns about his wife's well-being since she couldn't eat during their dinner date.
What are your thoughts? Do you think Kanye West is making Bianca hide her face in public? Do you find it strange? Sound off below in the comment section. Come back here for all the latest news about your favorite Hollywood and reality television stars right here.
Editorial credit: Consolidated News Photos / Shutterstock.com