Travis Barker Recalls Plane Crash Tragedy, Shares Album News Amid Kourtney's Pregnancy
Travis Barker and his Blink-182 band have suffered multiple tragedies in the past. And as the musician awaits his first baby with pregnant wife Kourtney Kardashian, he recalled his losses. But Travis also shared exciting career news.
And Barker became emotional in looking back at the tragedies. Get all the details below.
Travis Barker – Tearful In Sharing Career News
Blink-182 musician Travis Barker tried to hold back his tears in sharing his career move. And Barker's announcement comes in the wake of family drama.
Travis needed to head home from his European tour for his wife Kourtney Kardashian's emergency fetal surgery, noted the Sun.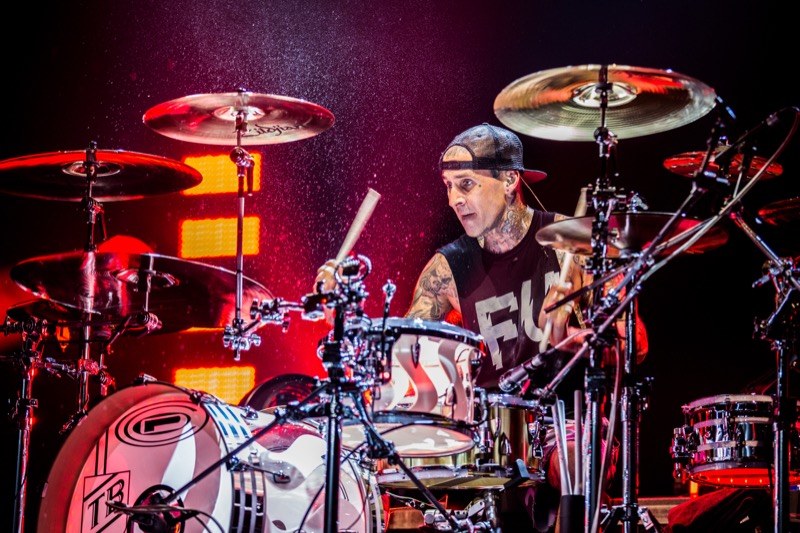 But after returning to his overseas tour, Barker teamed up with his Blink-182 band mates for an exciting announcement. And the group discussed their careers and personal struggles before using a video to share the news. Get ready for a new Blink-182 album!
The album will feature 17 songs. And titled One More Time, it will drop in October. But the album represents a special milestone for Barker's guitarist, Tom DeLonge, who exited the band in 2015. One More Time will mark Blink's first full-length album with DeLonge since his exit.
Travis Barker – Reflects On Personal Tragedies
However, amid sharing the album news, Barker reflected on past tragedies. And he explained, "Our new album, One More Time, is kind of written about, like, why does it take these catastrophes…for our band to get back together." The tragedies include Barker's own plane crash in 2008.
At the time, Travis, his assistant Chris Baker, security guard Charles Still and his best friend Adam (DJ AM) Goldstein flew in a small private plane. But it then ended up crashing through the airport boundary fence. As a result of the plane crash, both the pilot and first officer died, as did Chris and Charles.
And just a year later, DJ AM died after an overdose. But then in 2021, Mark struggled with stage 4 lymphoma. However, in the wake of chemo, he shared he had become cancer-free. And through it all, Travis "always knew that the brotherhood wouldn't ever deteriorate or wouldn't be there."
Travis Barker shares heartbreaking tribute to three late friends on 15th anniversary of tragic plane crashhttps://t.co/Im5j0n2McG

— The US Sun (@TheSunUS) September 20, 2023
Travis Barker – Looks Forward To Kourtney Kardashian's Baby
Barker believes that Blink involves "us three. And as soon as we accept that and we just don't settle for anything less than that, I just think that's the future." But the birth of Travis' son with his wife Kourtney also awaits in the future. And after what she described as "urgent fetal surgery" on her unborn baby, Kardashian expressed gratitude.
"I will be forever grateful to my incredible doctors for saving our baby's life," wrote Kourtney on social media. And she also thanked Barker for rushing "from tour to be with me in the hospital and take care of me afterward, my rock. And to my mom, thank you for holding my hand through this." Travis will complete his European tour before his first baby with Kourtney arrives in about a month.
Tell us what you think. How do you react to Travis Barker's career news? And after you share your views, check back on our site for more celebrity news.
Editorial credit: Ant Palmer / Shutterstock.com