General Hospital Spoilers: Trouble Runs In The Family, Valentin And Nina Reunite Over Charlotte's Danger?
General Hospital (GH) spoilers tease that Charlotte Cassadine (Scarlett Fernandez) is all sweetness and light to her Papa Valentin Cassadine (James Patrick Stuart).
But literally behind closed doors Charlotte appears to be a terror, the one responsible for trashing Anna Devane's (Finola Hughes) hotel suite.
She was seen on video footage sneaking into Anna's hotel room right before it was discovered vandalized.
Thanks to Nina Reeves (Cynthia Watros) erasing the footage, Anna is none the wiser since Valentin lied to Anna about the footage.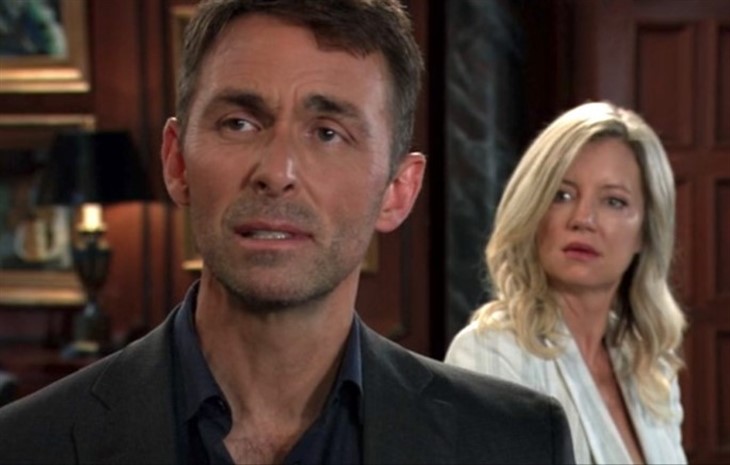 It's not the first lie he's told to Anna in recent days and now with him pulling Nina into his web of deception, where will this lead?
General Hospital Spoilers – Charlotte's Web
Nina is up to her designer necklaces in deception as well. She is lying to Sonny Corinthos (Maurice Benard) and we all know how Sonny handles traitors.
Charlotte is troubled, with her mom Lulu Spencer in a coma, and her Papa all kinds of busy. She does like Nina and when Nina and Valentin were involved, she was super nice to Charlotte before Valentin ruined the relationship by bringing in Sasha Gilmore (Sofia Mattsson) to be her fake daughter.
Nina later lost her real daughter, Nelle Benson (Chloe Lanier) and her other real daughter, Willow Tait (Katelyn MacMullen) is guarded around her.
READ THIS: Find out what happens next on General Hospital.
GH spoilers – Nina Reeves Reaches Out
Nina loves kids and is helping Valentin cover up Charlotte's nastiness, no questions asked. She was even there when Valentin took Charlotte to her new home this week.
If Valentin thinks that a new house will cure Charlotte of what is troubling her, he best think again. No amount of shiny new things will snap this teen out of her tarot card infused lunacy.
Plus, he asked her straight out if Anna can live with them, proving that he has the brains of a potato. What is he thinking, bringing Anna smack dab not Charlotte's troubles?
General Hospital Spoilers – Valentin Cassadine's Plan
In reality, we see Valentin, Nina, and Charlotte spending more time together as they try to help the troubled girl.
MUST READ – GH Spoilers: Some Fans Questioning Why Kelly Monaco Hasn't Posted About Co-Star Billy Miller's Death
GH Spoilers – Nina Reeves's Lies
At the same time, Nina is lying to Sonny and will keep him out of the loop about the danger Anna is in. It's inevitable that Sonny learns Nina was the one who turned in Drew Cain (Cameron Matheson) and Carly Corinthos (Laura Wright) to the SEC.
Sonny and Anna have also been spending time together, most recently in the GH chapel of all places as they prayed for Drew who was beaten in Pentonville.
Since the church walls didn't fall down around them, we take this as one more sign that Sanna are about to get thisclose, if not closer if you know what we mean!
Are you shipping Anna and Sonny GH fans?
Be sure to catch up on everything happening with GH right now. Come back here often for General Hospital spoilers, news, and updates.