Days of Our Lives: 7 Things You Need To Know About Stephen Nichols' Character Steve "Patch" Johnson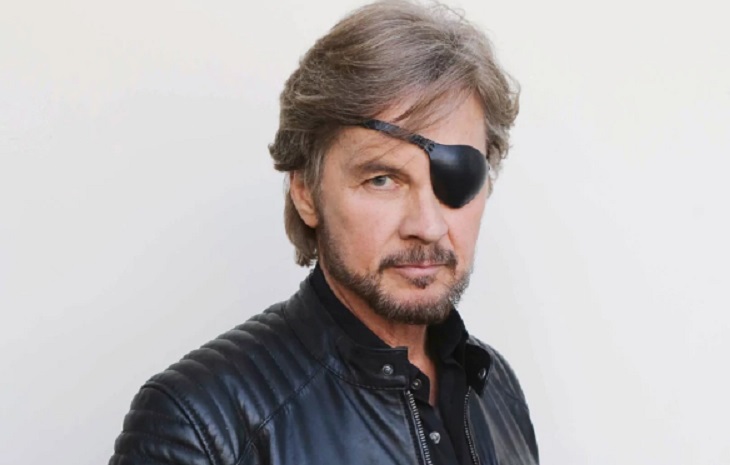 Steve "Patch" Johnson blew into Salem as a harmonica playing bad boy with a chip on his shoulder. What are 7 things you need to know that transformed Patch into one of Days of Our Lives most beloved characters?
Steve's First Mission In Salem Was To Kill Bo
Steve and Bo were friends from the Merchant Marines until they both fell for Britta Englund. Bo and Steve got into a knife fight and Steve ended up losing his eye.
Steve held a grudge against Bo for a long time but eventually Bo was hurt working in Victor's warehouse and Steve showed true concern for his friend.  It was a long road to regaining their friendship but even a woman couldn't keep true friends apart.
Steve Fell In Love With Bo's Sister
Steve delivered medicine for Kayla's clinic and ended up saving her from a street gang one night. Steve believed he and Kayla belonged together but her family opposed the relationship, especially Bo.
Kayla befriended a woman named Adrienne Johnson and they roomed together. Kayla didn't know that Adrienne was Steve's sister and they were separated years before when their mother put Steve and Billy up for adoption.
Steve began to pull away from Kayla due to nightmares about his past and she ended up married to his brother Billy, who's adopted name was Jack Deveraux.
Steve Comforted Hope When She Lost Bo's Baby
When Bo found out Victor was his father, he and Hope moved into the Kiriakis mansion. Hope got pregnant by accident while she and Bo were trying to help rescue Marlena and John Black, a man thought to be Roman Brady at the time.
Hope collapsed on the pier and Steve carried her to Kayla's clinic. Kayla had Hope sent by ambulance to the hospital and Bo was out of town on business. Steve was there for Hope as a friend when Hope needed one.
Bo comes home from his trip after choosing not to return Hope's phone call but has a gift for the baby. Steve informs Bo that Hope lost the baby and Hope wants nothing to do with him. Steve is very disappointed in his former friend and how he has treated his wife.
Steve Loves The Blues
From his first appearance on Days of Our Lives, Steve has loved his harmonica. Steve plays the blues like no other. Steve even created a song for Bo once called " The Ballad of a Boy Named Bo"
Steve used to carry his harmonica everywhere with him and would burst out in song at any given time. Steve's harmonic used to be a part of him back in the day.
It would be nice for Steve to play a tune every now and again, especially now that he's blind. What would be even better would be one of his three kids having his musical talent.
Steve Lost His Sight Because Of The ISA
Steve joined the ISA and worked for them for several years. He worked with John Black for several years. However, sometimes the ISA decides to get rid of people who know too much and Steve knew way too much.
Steve's friend John Black was forced to poison him and was supposed to kill Steve. John followed orders to an extent but he couldn't kill his friend and procured the antidote to save Steve's life.
LOVE DAYS OF OUR LIVES? SIGN UP FOR OUR DOOL NEWSLETTER!
Steve's life was spared but he is blind due to the poisoning. John has been working ever since to find a way for Steve to see. Currently Steve is checking into bionic eyes. Hopefully Steve can get past the face that Dimera Enterprises bought the company, and he will take a chance to see again.
Steve "Died" In 1990 Only To Reappear 16 years Later.
Steve became a police officer and while on patrol he was investigating a suspicious looking boat. Steve found a addressed to Bo from Lawrence Alamain. The boat exploded leaving Steve in a coma. He was then poisoned and died, however his coffin was stolen from the graveyard and replaced with an empty one.
Steve reappeared in 2006 at Frankie Brady's wedding, however, he had amnesia. Eventually Steve got his memory back and he and Kayla reunited. They went on to have their son Joey.
Steve and Kayla left town to run a clinic in a third world country but split up when he rejoined the ISA in 2012 and Kayla returned home to Salem alone. Steve eventually returned and won back his true love Kayla.
Steve Found Imprisoned Bo But Too Late To Save His Life
Steve discovered that Bo was working with Victor to find a cure for Caroline's memory issues.  Steve found the facility Bo was held in and finally rescued him and bought him back home to  Salem. Bo arrived just in time to save his true love Hope from the man she believes to be Aiden Jennings.
Bo begins having black out spells and very bad headaches and Kayla discovers he has an inoperable brain tumor. Bo and Hope make love one last time and go to the park where they first kissed and he tells her about his condition. Bo dies there in Hope's arms.
Steve cries over his lost friend, a man he thought of as a brother but is glad he at least brought him home to be with his loved ones at the end. Steve blamed himself for not getting to Bo faster, a far cry from the man who once hated Bo with a passion.
Days of Our Lives airs weekdays on the NBC network.
---
Read more news, spoilers, and gossip on our Days Of Our Lives homepage
Want up-to-the-minute soaps news, spoilers, and gossip on your social feeds? Just hit 'Like' on our Soap Opera Spy Facebook page and 'Follow' on our @soapoperaspy