Days Of Our Lives: Do Chloe Lane And Brady Black Have A Chance At Romance With Rachel Black Around?
Days of Our Lives (DOOL) spoilers hint at a minor confrontation come the week of April 10th. Looks like Brady Black (Eric Martsolf) will walk into the pub and see his gal pal Chloe Lane (Nadia Bjorlin) playing darts with none other than Xander Kiriakis (Paul Telfer). Actor Eric Martsolf recently spoke to Soap Opera Digest (SOD) to provide a little insight into the scene that could explode some major drama.
DOOL Spoilers: Brady Black Is Upset, But Tries To Keep His Composure
DOOL spoilers reveal that Brady will be shocked at seeing Chloe and Xandy together. Eric notes that Mr. Black will be "flabbergasted", as Mr. Kiriakis is the last person, he thought he'd see Lane with. Especially considering their bad history in the past. With that said, Martsolf also states that Brady will play it "cool". He won't have a meltdown in front of the two, but he will be stirring on the inside.
The silver lining to this all is that Chloe and Brady will have an opportunity to chat. It sounds like Lane will have a candid talk with Black. She'll be clear that she doesn't believe that they can pursue a romance together until Rachel Black (Finley Rose Slater) is a lot older and can understand how adult relationships work. Chloe will also believe that Brady should put his daughter first in all this.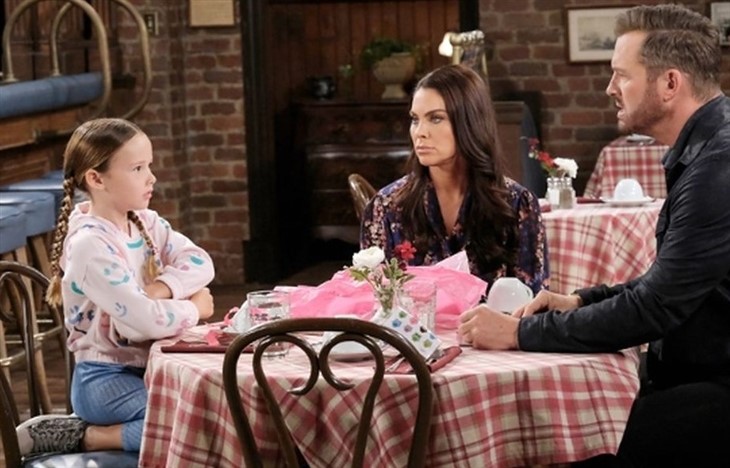 DOOL Spoilers: Brady Black Feels Conflicted …
Martsolf states that hearing Chloe tell him to put Rachel first is Brady's major conflict right now. He loves his daughter and wants to do what's best for her, but he's also deeply in love with Ms. Lane. He'll feel that much more stressed after their conversation.
At the end of the day, Eric notes that whether Brady decides to move forward with Lane or not, someone will get hurt by either decision he makes. This is why Brady is so torn; he loves Chloe, but he loves Rachel, too.
After Brady leaves the pub, Xandy encourages Chloe to think about her romantic future. So, what will happen next?
Are you #TeamXander or #TeamBrady when it comes to Chloe? Share your thoughts in the comment section. Keep watching Days on Peacock daily to see whom Lane chooses and visit SOS regularly for all the latest DOOL spoilers and news.