Days Of Our Lives Fall Preview: Finding Susan, Theresa's Grave Deception, Shane Returns, Vivian's Slumfest
Days of Our Lives spoilers reveal that the fall 2023 preview has been released. The video clip features Wendy Shin (Victoria Grace) announcing Susan Banks' (Stacy Haiduk) fate.
Shane Donovan (Charles Shaughnessy) grills Theresa Donovan (Jen Lilley) about her deception. Shawn Brady (Brandon Beemer) goes missing.
Plus, Maggie Horton Kiriakis (Suzanne Rogers) gets a shock when she opens Victor Kiriakis' (John Aniston) briefcase from the plane crash.
Days Of Our Lives Spoilers – Finding Susan Banks
DOOL spoilers reveal that fans were treated to a fall preview clip, which teases what is coming up in Salem. For one thing, EJ DiMera (Dan Feuerriegel) is determined to avenge Susan's death.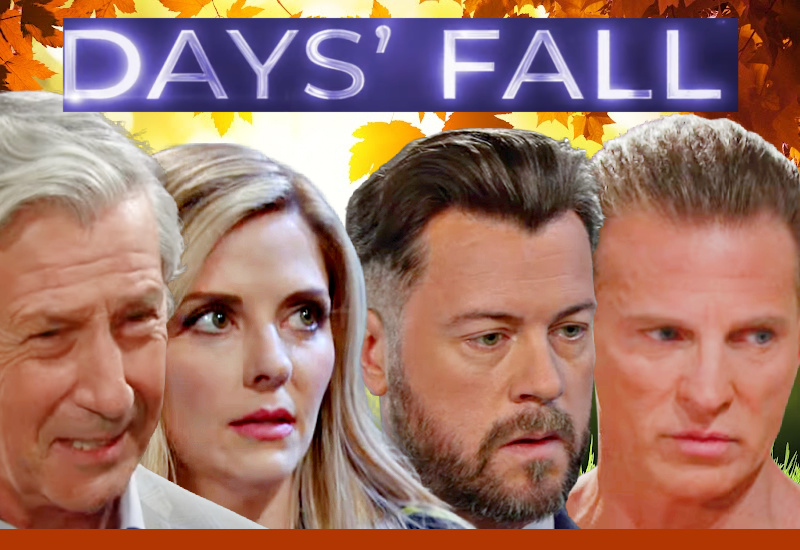 For EJ, that means going after Ava Vitali (Tamara Braun). While Ava and Harris Michaels (Steve Burton) track Susan in London, Wendy tells EJ that his mother is still alive.
DOOL Spoilers – Grave Deception
While Ava and Harris are in London, other Salemites will be in Greece. Alex Kiriakis (Robert Scott Wilson) and Brady Black (Eric Martsolf) went to Greece to find out more about Victor's last moments.
Specifically, they were hoping to learn why Victor suddenly made a detour. Plus, Victor also ordered his will to be destroyed.
At least, that is what the estate lawyer claims. So, Victor's loved ones want answers, especially now that Vivian is staking her claim on the estate.
Days Of Our Lives Spoilers – Shane Donovan's Return
Days of Our Lives spoilers reveal that the fall preview clip also features Shane Donovan returning. Shane knocks on Theresa's door in Greece.
Shane demands answers from Theresa. A frustrated Shane asks Theresa how far she plans on taking her deception.
DOOOL Spoilers – Fall 2023 Preview
The fall preview clip also shows Gabi Hernandez-DiMera (Camila Banus) scheming. Ava asks a confused Harris to sleep with her.
Belle Brady (Martha Madison) panics over Shawn's disappearance. Meanwhile, Shawn wakes up in a hotel bed after a drunken romp.
MUST READ – DOOL Spoilers: Talia Hunter's Exit, Finds Out She's Pregnant & Leaves Salem
Vivian goes to Brady's Pub to antagonize the patrons. Vivian tells a dining John Black (Drake Hogestyn) and Steve "Patch" Johnson (Stephen Nichols) that they are "still slumming."
The final scene in the fall preview shows Maggie opening up the briefcase. Maggie suddenly lets out a shocked gasp.
Will Maggie get the evidence she needs to stop Vivian? Or could Theresa's actions end up destroying multiple people's lives?
Which storyline are you looking forward to seeing the most this fall? What are your predictions for Maggie, Theresa, Brady, Alex and Vivian?
What does the future hold for Ava, Harris, Shawn, Belle and the other Salemites? Share your thoughts in the comment section below.
Remember to keep watching the soap on Peacock to find out what happens next.
Be sure to catch up on everything happening with DOOL right now. Come back often for Days of Our Lives spoilers, news, and updates.