Days Of Our Lives Preview: Victor's Tragedy, Passionate Pleas, Proposal Re-Do, Paternity Exposures
Days of Our Lives spoilers for the week of August 7 reveal that a preview clip has been released. It shows loved ones reacting to Victor Kiriakis' (John Aniston) tragedy.
Johnny DiMera (Carson Boatman) issues a passionate plea to Chanel Dupree (Raven Bowens). EJ DiMera (Dan Feuerriegel) re-proposes to Nicole Walker (Arianne Zucker).Plus, Maggie Horton Kiriakis (Suzanne Rogers) confronts Sarah Horton (Linsey Godfrey).
Days Of Our Lives – Johnny DiMera's Passionate Plea
DOOL spoilers for the week of August 7 reveal that the preview clip begins with Johnny and Chanel. Once again, Johnny will make a passionate plea to rekindle his relationship with Chanel.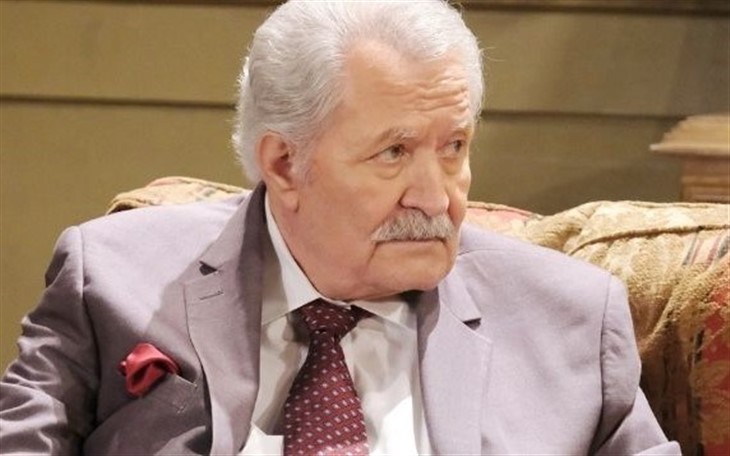 However, Chanel seems hesitant and guarded. Even though Johnny and Chanel did get married at one time, the devil possession led to their divorce.
With Allie Horton (Lindsay Arnold) being gone, will Chanel give Johnny another chance?
DOOL Spoilers – EJ DiMera's Proposal Re-Do
The weekly preview clip also show EJ and Nicole. As fans know, Nicole is pregnant but thinks the baby belongs to EJ.
Thanks to Sloan Petersen's (Jessica Serfaty) interference, only she and Melinda Trask (Tina Huang) know that Nicole's baby really belongs to Eric Brady (Greg Vaughan).
EJ proposed after Nicole's pregnancy surfaced. However, Nicole turned him down flat. It wasn't that she didn't want to marry EJ. The actress explained that Nicole wants a genuine proposal, not something that is rushed or not thought through properly.
However, when EJ gives a thoughtful proposal, Nicole's face suggests that she might not say yes.
Days Of Our Lives – Victor Kiriakis' Plane Tragedy
Days of Our Lives spoilers for the week of August 7 reveal that Justin Kiriakis (Wally Kurth) tells Alex Kiriakis (Robert Scott Wilson) some tragic news.
This will be about Victor's plane. So, this must be Victor's exit story following the actor's death. Will Stephanie Johnson (Abigail Klein) help Alex get through the loss? How will Chad DiMera (Billy Flynn) react to this?
DOOL Spoilers – Week Of August 7
During the week of August 7, fans can also expect Harris Michaels (Steve Burton) to run into Ava Vitali (Tamara Braun) at Bayview.
Harris doesn't recognize Ava, which only makes her even more furious. So, how will Eve Donovan (Kassie de Paiva) factor into this storyline?
Plus, Maggie corners Sarah in Chicago. Maggie can clearly see that Sarah is pregnant. However, when Maggie asks if the baby belongs to Xander Cook (Paul Telfer), will Sarah confess or keep lying?
Which storyline are you looking forward to seeing the most during the week of August 7? Share your thoughts in the comment section below. Remember to keep watching the soap on Peacock to find out what happens next.
Be sure to catch up on everything happening with DOOL right now. Come back often for Days of Our Lives spoilers, news, and updates.