Days Of Our Lives Spoilers: 3 Must-See DOOL Moments
Days of Our Lives spoilers reveal that there are three must-see moments for the week of October 2. Fans can expect Susan Banks (Stacy Haiduk) to surprise EJ DiMera (Dan Feuerriegel) with her sudden resurrection.
Days of our Lives Spoilers Highlights
Stefan DiMera (Brandon Barash) and Gabi Hernandez-DiMera (Camila Banus) owe Vivian Alamain (Louise Sorel).
Plus, Alex Kiriakis (Robert Scott Wilson) makes the wrong decision. Keep reading to find out what is coming up in the Peacock soap opera.
Days Of Our Lives Spoilers – Susan Banks' Return
DOOL spoilers for the week of October 2 reveal that one must-see moment centers around solving a mystery. Fans have watched as the soap characters issued name drops and mentioned Susan.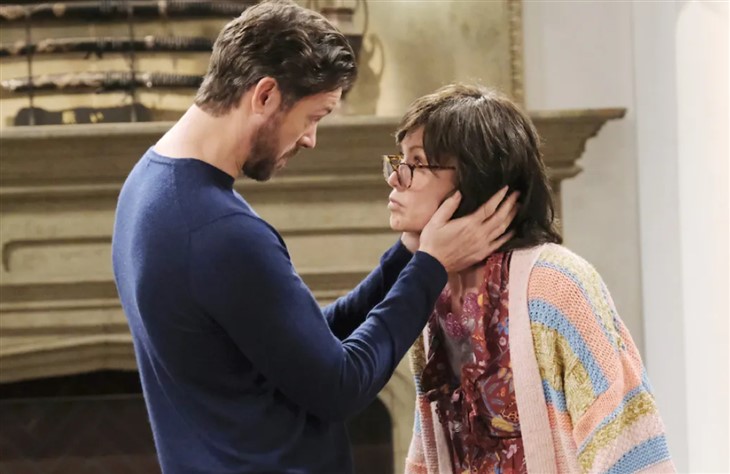 Then, Harris Michaels (Steve Burton) went to Bayview and got to know Ava Vitali (Tamara Braun). After EJ's hitwoman failed, Ava and Harris went on the run to London.
Apparently, Harris and Ava end up finding Susan. Either that or Susan suddenly shows up in Salem. The weekly preview clip shows Susan and EJ's heartwarming reunion.
This is most likely real and not a dream sequence due to the fact that Harris is standing in the background, giving EJ and Susan some space.
DOOL Spoilers- Vivian Alamain's Leverage
Another must-see moment for the week of October 2 centers on Vivian. Since Vivian's prison release, the villain has been focused on Victor Kiriakis' (John Aniston) fortune and empire. However, Vivian stopped by the DiMera mansion in Friday's episode.
READ THIS: Find out what happens next on Days Of Our Lives.
Fans watched as Dimitri von Leuschner (Peter Porte) was about to kill 'Stabi." As Stefan used his body to shield Gabi, a shot rang out. It wasn't from Dimitri's gun, though. It was Vivian, which means "Stabi" now owe her.
Days Of Our Lives Spoilers – Alex Kiriakis' Wrong Decision
Days of Our Lives spoilers for the week of October 2 reveal that another must-see moment features Alex. Now, Alex kept saying to Vivian that he wasn't a traitor.
Alex also insisted that Maggie Horton (Suzanne Rogers) and Bonnie Lockhart Kiriakis (Judi Evans) were his family despite no blood relation.
MUST READ – Days Of Our Lives Spoilers: EJ DiMera Saves The Day For All Thanks To Susan Banks's "Signs"
DOOL Spoilers – Week of October 2
Since Victor's will bombshell, though, Alex is thinking about Vivian's statements. It seems like Alex is going to side with Vivian now that he feels deceived by the Kiriakis family.
However, we also expect Alex to earn redemption. Perhaps Alex will even be responsible for Vivian's takedown, making him a hero and someone the Kiriakis family can respect.
Which storyline are you looking forward to seeing the most during the week of October 2? Share your thoughts in the comment section below. Remember to keep watching the soap on Peacock to find out what happens next.
Be sure to catch up on everything happening with DOOL right now. Come back often for Days of Our Lives spoilers, news, and updates.