Days Of Our Lives Spoilers: Alex Gets Fired From Titan, Gwen Hires Him At The Spectator
Days of Our Lives (DOOL) spoilers hint that Alex Kiriakis (Robert Scott Wilson) and Gwen Rizczech (Emily O'Brien) will continue to get closer over the next couple of weeks. With that said, there will also likely be increased tension that builds up at Titan. As he has drama with both Maggie Kiriakis (Suzanne Rogers) and Xander Kiriakis (Paul Telfer), could Alex cross a line and find himself jobless, soon?
Days Of Our Lives Spoilers – Xander Kiriakis Sets His Cousin Up For Failure Due To Jealous Rage
DOOL spoilers for the week of March 27th tease that Leo Stark (Greg Rikaart) will suggest to Gwen that she uses her relationship with Alex to make Xandy jealous. Whether she wants Xander back or not, rubbing her new handsome boyfriend in his face seems right up Gweny's alley. But will Xand look for retribution if she does so?
Maggie got annoyed with Alex heading into work late during a recent episode. By setting his own hours, the new Titan CEO could get annoyed by her nephew and provide some warnings about being tardy, or just general work ethic issues. Tensions may rise around being to work on time or possibly Alex making mistakes on the job. Maggie is sweet, but CEO Maggie runs a tight ship. Could she threaten to fire Alex if he "messes up one more time"? Could Xander overhear her saying this? If that's the case, Xander could purposely set Alex up for failure, knowing he'd get canned.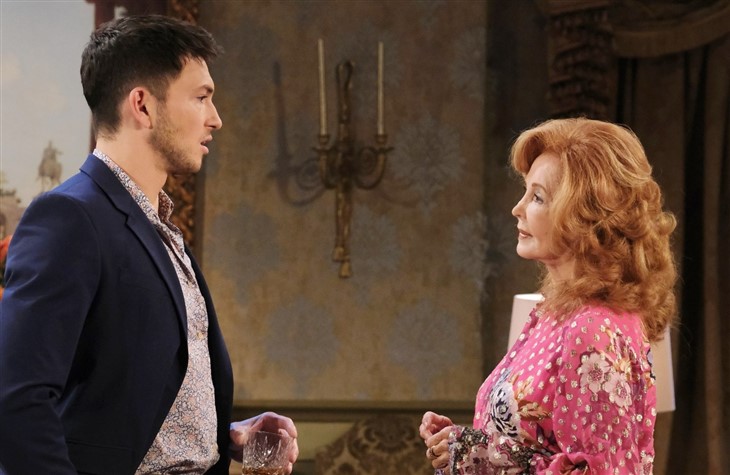 But if Xandy does this, it may blow up in his face.
DOOL Spoilers – Alex Is Heartbroken Over Job Loss, Gwen Comes To The Rescue
If Alex gets fired from Titan, his whole world may flip upside down. With that said, Gwen could come to his rescue. After all, he once ran a magazine, so Alex certainly has the qualifications to help out with the Spectator. Working together with Gwen would mean more time with Rizczech, which would get under Xander's skin. That may also be the motivation behind Gwen hiring Alex; simply to push her ex's buttons.
Is Alex on the verge of getting fired at Titan? Would Gwen offer him a job at the Spectator? Have your say, below! Plus, make sure to watch your favorite Peacock soap daily, to see what happens next, and visit this site for up-to-date DOOL spoilers and news.