Days Of Our Lives Spoilers: Are Talia Hunter And Chanel Dupree On The Road To Romance?
Days of Our Lives (DOOL) spoilers hint at more shockers in the land of Salem as fans head into May Sweeps. Viewers recently learned that Talia Hunter (Aketra Sevillian) was behind the tampering of the new biscuits Sweet Bits was launching.
As audiences still figure out the "why" around all this, plus, who Ms. Hunter's true target is, she also continues to get closer to Chanel Dupree (Raven Bowens). With that said, is she bonding with Chanel to bring her and her mom Paulina Price (Jackée Harry) down? Plus, does she want more than just a friendship with Dupree?
DOOL Spoilers: Does Talia Hunter Have Friendship In Mind Or Something More?
DOOL spoilers for the week of May 1st suggest that Chanel will tell her mom she's going on a date with Talia. Wait, what? Guess they are both throwing out the advice Ms. Hunter's mom always said. For those fans that recall, Talia told Dupree during her interview that her mama used to always say, "Don't get your honey where you get your money."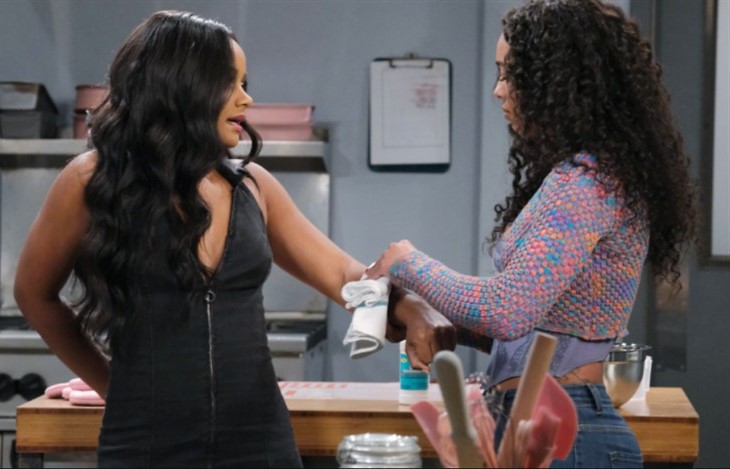 Was this foreshadowing a possible relationship between the two ladies? While Talia and Chanel have become very close, it's interesting that they may dive into a romance, so quickly. Especially since there does seem to be unresolved feelings between Chanel and Johnny DiMera (Carson Boatman).
Days Spoilers: Talia Hunter and Chanel Dupree's "Date" Is Not What It Seems
Then again, DOOL is infamous for twisting spoilers to make them seem one way when they are actually another thing entirely. Sure, Talia and Chanel could be saying they are going on a "date", but the two ladies may mean a "date" amongst friends. They could be labeling the night out as a "date" in a cheeky fashion because neither have any romantic options, at the moment.
Could Talia and Chanel be headed in a romantic direction? Is this part of Ms. Hunter's "plan"? Join the conversation on this storyline, below! Don't miss a moment of DOOL on Peacock to see what happens next and visit this site for all the best Days news and spoilers.